Papa Pear Saga is available on mobile!
Papa Pear Saga is available on mobile!
Papa Pear Saga is another mobile game developed by King. It's available on mobile for Android and iOS users. It comes after the impressive success of Candy Crush Saga, the most known game of the company. Papa Pear Saga is the first one completely developed in King's studio in Barcelona.
Papa Pear Saga is puzzle game, following the style of the classic Pachinko (a kind of Japanese pinball tablets without flippers). The objective of these games is fire balls across a dense forest of pins to land them in a target location. Papa Pear Saga converts the balls into amusing fruit-themed characters and all the obstacles display wacky facial features.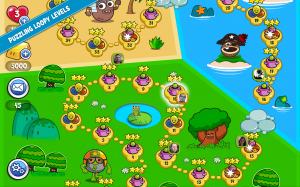 So, you can grab your goggles, put your helmet and in no time, you will be bouncing around a wacky world of fruity pegs! There are 150 levels on Facebook and 120 on Android, and the game is completely free-to-play. However, there are several in-game items such as extra moves or lives that require payment. If you don't want to spend any money on this game, you can turn-off the payment feature by disabling in-app purchases in your device's settings.
Kings expects a great success with this game, which incorporates some of the most interesting features of the famous game Candy Crash. The game has perfect graphics and it's easy and fun to play at the beginning. However, there are several difficulty levels, which turn it into a real challenge to fully master it. There are items to unlock and boosters and power ups that give some help with the most challenging levels.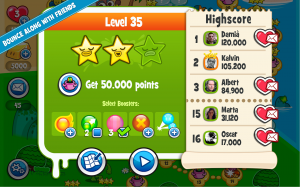 When the game starts you have 5 lives, and you will lose one if you don't pass a level. After 30 minutes, the life is automatically refilled. But if you are in a hurry, you can exchange lives for Gold Bars or ask your friends to send you some extra lives.
You can find Papa Pear Saga in iTunes for iPhone, iPad, iPod Touch (iOS 4.3 or later) and on the Google Play Store for Android devices (version 2.3 and up).