Panasonic's 4k 20 inch tablet comes in January
Panasonic's 4k 20 inch tablet comes in January
Panasonic's 20 inch 4k tablet will be available in the US next January. We saw it for the first time in January 2013 at CES and it will be finally on sale for $5.999. The company announced two models for Europe but only one for US – the higher end UT-MB5. Below are the characteristics of this impressive device.
The size. The most remarkable feature of ct is the screen. With its incredible 20 inch wide, it has a super high resolution of 3,840 x 2,560 IPS Alpha LCD (230ppi). It of fers an aspect ratio of 15:10, it's 49 inches thick, and weighs 5.27 lbs.
The power. The tablet runs Windows 8.1 Pro, powered by an Intel® Core™ i5-3437U GHz vPro™ Processor, 1.9 GHz with Turbo Boost up to 2.9 GHz, NIVIDIA GeForce GT 745M, 2GB dedicated VRAM, 256GB SSD, and 8GB RAM.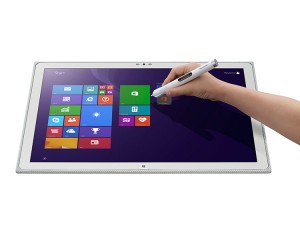 The camera. Panasonic's 20 UT-MB5 tablet has a 1280 x 720 pixel built-in front camera
Connectivity & I/O: Intel® Centrino® Advanced-N 6235 Wi-Fi 802.11 a/b/g/n, Bluetooth® v4.0 (Class 1), USB 3.0, SDXC card slot, smart card reader, docking connector
Below, you can find a demo video:
Panasonic Toughpad™ 4K Tablet has also an unprecedented level of precision. You can also acquire the optical natural hand writing pen, which offers you 2048 levels of pressure with sensitivity and accuracy to the pixel level. This is possible thanks to the Anoto technology, which unique dot pattern is ideal for digital writing on tablets and screens. Its technique lets artists draw on Panasonic's 4K tablet with higher accuracy and fewer worries about the touch surface's size or composition. This feature turns the device into something incredibly useful for marketing professionals, photographers, architects, and other such business users.
Panasonic reps quoted pricing for the standard version at €4,508 (about $6,000), with the Performance version MSRP to be announced. The optional pen will retail for €280 (about $370).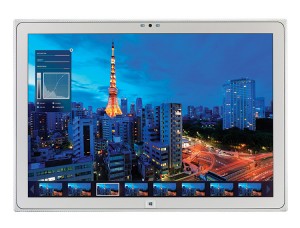 Source: Engadget.