Original Snake game on Android, with Snake Rewind
Those who have had a Nokia phone in the past (when smartphones still had not arrived in the world), may remember that legendary game known as Snake. A game in which you control a snake that can't stopped and should not crashing against the walls or even against itself too. Its purpose was to eat as much as we could and makes it bigger.
Speaking of retro, when the games were purely pixelated things in prehistory mobile phones, Snake was one of those games that defined an era and created trend. Nokia released Snake in 1997, almost 20 years ago, when all the things you could do with a mobile phone was calling, texting sms and play 3 different games (Rally game, Sudoku and Snake).
Now, in 2014, the creator of the original Snake, Taneli Armanto, has decided to get a sequel of his creation back to iOS, Android and Windows Phone: Snake Rewind.: Snake Rewind. In the App Store there are many "copies" of this legendary game that you can download easily, but in May 14th we will see the original one.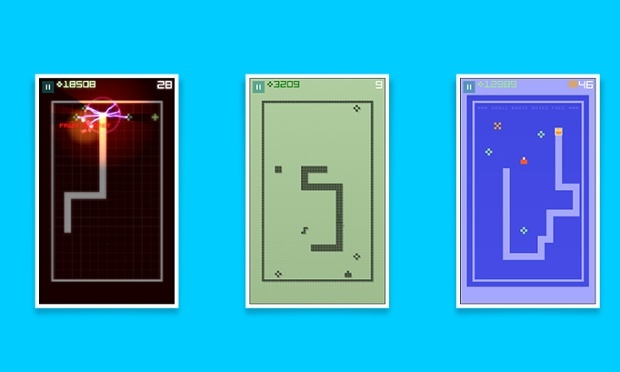 Scheduled for the next week, if there are not further delay, the classic puzzle game will be updated. As we can see in the trailer, the essence of the mechanics remains as it was, but with new additions, levels, challenges and enhancers. This is one of those 'throwbacks' that the older fans will enjoy, as we are returning 20 years back to a time when phones were weapons of mass destruction if they were threw to someone else, always indestructible.
We will have to see how it solves the touch control, if it provides differentiation from the versions available on the App Store and, above all, if you will get hooked as you did years ago, when fingers ached because of all the playing time, when Candy Crush Saga wasn't one of the most simple and also most play games in the smartphone/tablet world.
Original Snake game on Android, with Snake Rewind