OnePlus 3 is presented on June 14 with release date, features and price
The upcoming OnePlus 3, the Chinese Android smartphone, will be presented on June 14 and would be made of aluminum. But not only that, it will come in four different versions and four different prices depending on storage and RAM. Latest rumors and possible data sheet talk about 1000 devices for sale in China.
The wait for the OnePlus 3 is about to end. It is not yet known what will be the price of the product or the release date, at least not officially, although it may be even higher than 400 €: the actual price will be announced on June 14 during the presentation, for now we know that the next June 6 will be on sale "in the dark", and only in China, 1000 devices for the price of 2,999 ¥, or about 400 €. We also know for a fact that the first 30 thousand customers will have a gift: it confirms that OnePlus 3 is already projected into the future with virtual reality and there will be a lot of things to wait for the Chinese Android smartphone presentation.
There will be a waiting list but no invitation as with the predecessors. The announcement is scheduled for June 14, 2016, but it will be possible to purchase online immediately after the presentation. Priority will be given to users who will follow the event live starting at 18:30, with the Loop VR Headset. The sale initially will be made only in the Loop virtual store. But what are the features of this smartphone?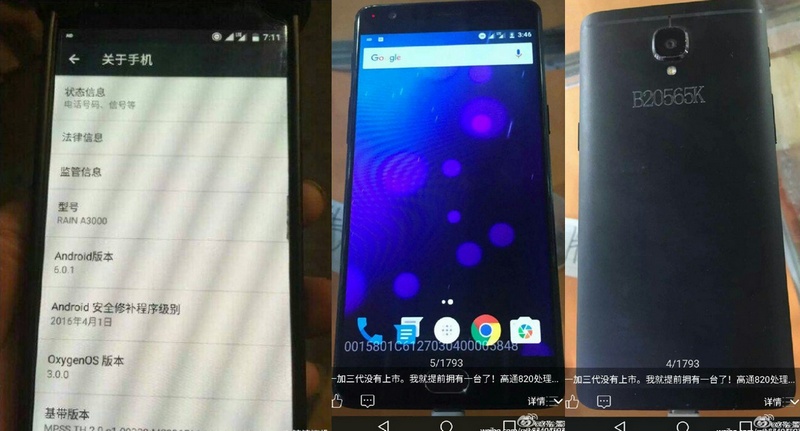 The smartphone will have an aluminum body, a great 5.5-inch Full HD display, Snapdragon 820 processor, 4 or 6 GB of RAM and internal memory storage of 32 Gb and 64 Gb. The main camera will have a 16 megapixel sensor, and the front camera 8 megapixels, 3500 mAh battery, equipped with NFC and a fingerprint reader. If there are two storage variants and two of RAM, it is likely that OnePlus 3 bait in well 4 versions and thus with 4 different prices.
The predecessors of OnePlus 3 had a plastic body and not in metal, this should raise prices so far announced by various rumors. The basic version (4 GB RAM and 32 GB of memory), could therefore already from a cost of just over 300 €, up to the top version (6 Gb RAM and storage from 64 GB), to almost 400 €. The truth is that the rumors are yet to be taken lightly, maybe if we know more in the next few days, now about 2 weeks before the release of OnePlus 3. The version of the Android operating system should be 6.0.1 with OxygenOS, and it will also present the physical Home button.
OnePlus 3 is presented on June 14 with release date, features and price