One2Touch Softpad NFC: a foldable keyboard for Android devices
One2Touch Softpad NFC keyboard: a foldable keyboard for Android devices
One2Touch Softpad NFC keyboard is a real traveling keyboard for Android devices, intended and designed for typing on the go. All of you who had been trying to write something directly on your smartphone will agree that its usability is rather poor. Here is where this foldable gadget is really handy.
The One2Touch Softpad NFT keyboard it's foldable and compact enough to fit in any travel bag, and includes a silicone band to keep it secured. When unfolded, it has two working areas with a space in the center to place your Android device. It's really versatile, and wide enough to rest a long list of devices. You only need to practice a little to get use to the split keyboard. However, all the symbols and numbers are included, as well as dedicated Android functions (like search and home).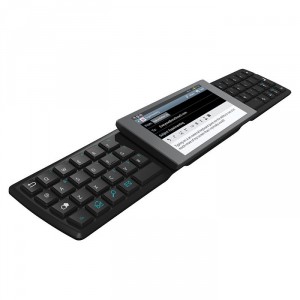 The installation is quick and easy and the only requirement is that your Android device must have NFC (Near Field Communication). From Google Play you can install the correct software, and set the keyboard as the default input option. Once installed, every time you place your Android device on the softpad, it automatically connects. That's all. Easy, quick and working.
So, if you are tired to type lots of emails on your Android smartphone using the touchscreen, this can be the perfect solution for you. It weighs just 5 ounces, pairs with most of the Android 4.0 devices and above and its internal battery lasts about 18 months. And the best news: it has the typing width of a 13'' laptop.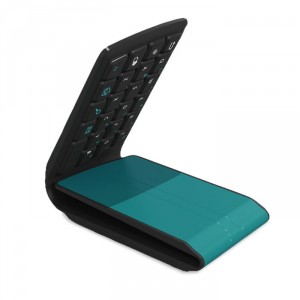 The NFC technology uses less device power than traditional Bluetooth pairing and most of the current Android smartphones include it on board. NFC devices pair just by being tapped together, so when you let your smartphone onto the keyboard landing pad, they immediately pair and you can start typing.
The One2Touch Softpad S1 is available now online at Brookstone and Amazon for $99.99.
For more information, you can watch the One2Touch Softpad S1 in action.