Office and OneDrive updated with new features for Android
Microsoft has announced a new update with the introduction of new modes and improvements in efficiency and performance. Office and OneDrive versions for Android are enriched with some new features that enhance productivity through our Microsoft apps.
Today, we must talk again about the famous productivity apps developed by Microsoft -which already have been subject to an update in the last few weeks- taking into account the inevitable Office suite, as well as its OneDrive cloud service, which were updated again, bringing with them the introduction of new features that facilitate the work of the mobile users.
Let us first take a look to the updated environment that Redmond company has made available on Office for Android. First of all, the beta version of the app is 16.0.7301.1002, and now, thanks to the new feature "Shared with me," you can spot and then quickly open files that have been shared with an user, optimizing the sharing of documents and also being able to take note of who is editing them.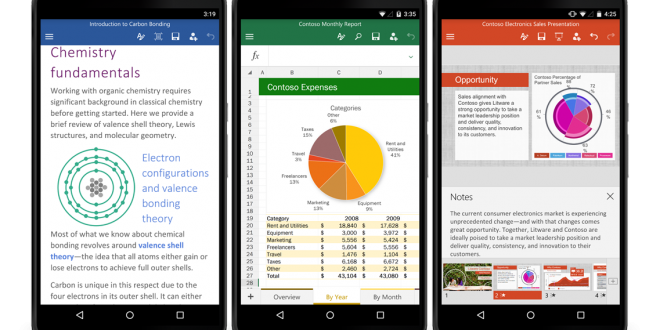 To take advantage of these new features introduced in version of the suite for Android, you need to take part in the appropriate Office Insider program for Android, seeking support through the community created within Google Plus. With this new update, it will be possible to find and open files shared with the user in a more rapid and immediate way.
As for OneDrive, Microsoft has updated its application to version 4.3, through which you can log in to Office 365 directly through the app, or even get instant preview of each file on the cloud, allowing the user to decide whether to open it or not, saving you time in finding documents over which you intend to then work. All updates are available on the Play Store for free, with in-app purchases.
Office and OneDrive updated with new features for Android