Now you can enable Multiwindow on Android 6.0 Marshmallow
Android 6.0 Marshmallow is here officially. The new operating system includes some new features, but one has not arrived definitively, which is Multiwindow, but the truth is that this function is itself integrated into Android 6.0 Marshmallow, and that's how you can activate already on Nexus those who have the new version.
Multiwindow is one of the most popular Android functions of which could come for years. In fact, not only in Android, but also to iOS, it gives us the ability to run two or more applications simultaneously being able to see them on the screen and use them together. It is one of the innovations that has reached the last Apple iPad Air 2, and is a feature in high-end Samsung for several years. Trial versions of Android M already had this new integrated feature, though not official or final, but must be activated, and that has not changed in Android 6.0 Marshmallow once it has reached the Nexus.
However, it remains an integrated smartphones and tablets function and can activate. There has been talk of different modifications to the firmware to activate the Multiwindow function. And one of them is remarkably simple, is that we say here. You just have to add a line to the build.prop, that is:
"persist.sys.debug.multi_window=true" (without quotes)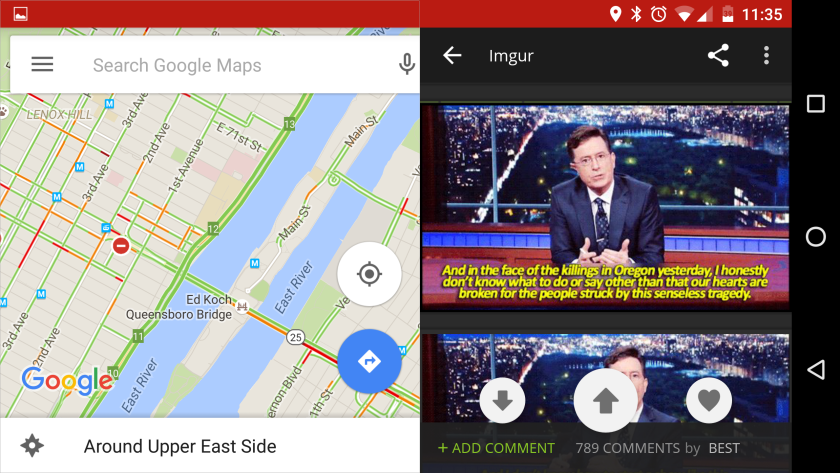 Once this is done, you just have to restart the Nexus, and you should have this new feature, but it is not a final function, so there is no mistakes, besides not having an interface with a large design yet. Users with the Nexus 7 2013 have already achieved enable this feature, but users with the Nexus 5 have claimed that they have not succeeded, so it may not work with all Nexus.
Don't you know what the build.prop is? Then perhaps you should ask yourself not to make this change. In the future there will an update that will include this function, and then will be official. However, it is likely to be a feature that is only present in the most advanced smartphones. For now, though, it will still be necessary to use these changes to have a function as Multiwindow.
Now you can enable Multiwindow on Android 6.0 Marshmallow