Nokia's Refocus app available for Lumia phones
Nokia's Refocus app available for Lumia phones
Nokia's Refocuss app was presented last month in Abu Dhabi, during its Nokia World event. Now is available for download on the Windows Phone Store, and it works on any Nokia's PureView Windows Phone. Nokia Refocus is designed for scenes with a great contrast in the depth of field, like macro shots.
Nokia Refocus' app allows you to capture first and then focus and re-focus the image to produce different focusing effects. With this application you can take photos much more easily as you didn't need to make sure everything is in focus.
How does it work? Nokia Refocus calculates and creates a depth map of the scene acquired. When you shoot the photo, the camera takes a number of images at different focus stage and produced a calculated photo, with the focus adjusted wherever we want. This saves a lot of time when taking pictures but also provides a lot of editing possibilities.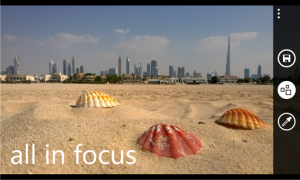 One of the interesting advantages of this app is that Nokia Refocus can keep a close-up focus in any part of the image but it can also display the whole image on focus. By also being able to focus on everything, the Nokia Refocus application can also put the whole scene into focus at the same time to provide extra clarity; that includes the object only inches away from the lens.
Another interesting editing option is the fun color-pop feature. You can select an object and turn the rest of the image to black and white, while the object selected keeps its original color.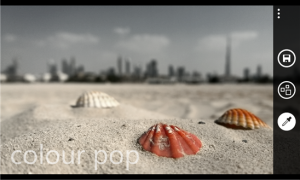 Nokia Refocus is available now to download exclusively for Nokia Lumia PureView smartphones, such as the Nokia Lumia 920, Lumia 925, Lumia 928 and Lumia 1020 (with Amber installed). It will also be available for your new Lumia 1520.
More information: Conversations.Nokia.com.