Nokia Lumia 1520 arrives on November 22nd
Nokia Lumia 1520 arrives on November 22nd
Nokia Lumia 1520 was announced last October in Abu Dhabi, but the official releasing date had not been announced since today. Now, if you want to get your hands on the new Nokia's jewel, you can do it next week!
With its 6 inches screen, the Nokia Lumia 1520 has one of the biggest screens available on the market for a smartphone. This giant phone weights only 7.3 ounces and is 0.33 inches thick, perfectly manageable specifications. It's powered by a 2.2 GHz Qualcomm Snapdragon 800, with 2GB of RAM. And it's the first phone to run Windows Phone 8 (Update 3) with a 1080p resolution screen.
But the star feature is the camera. The Nokia Lumina 1520 has an amazing 20 MP PureView camera with six-lens ZEISS optics and optical image stabilization. It also includes powerful zooming and oversampling technology to capture more detail, and lossless digital zoom. You can also reframe the image after snapping the photo and with the help of Nokia Refocus you can shoot first and focus later.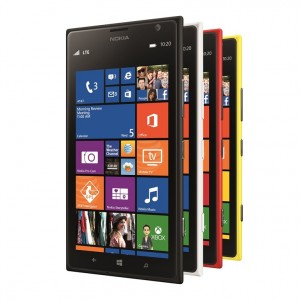 With the Nokia Lumia 1520, several expected apps were also announced in Abu Dhabi. Instagram, Flipboard, Mint, and Wine (among others) will be soon available soon in the Windows Phone Store.
The offer is exclusive for AT&T costumers, who can pre-order a Lumia 1520 from AT&T or Mircrosoft Store at the price of $199.99 with a two-year agreement with AT&T. It comes if four colors: matte black, matte white, matte yellow, and glossy red.
To sweeter the deal, AT&T and Microsoft included a few promotions as an extra bonus. AT&T offers 50 GB cloud storage on AT&T Locker, $20 app voucher, and a free copy of Halo: Spartan Assault. Microsoft Store adds $70 app vouchers and also the free copy of Halo. And if you are a preordered costumer, the company also gives you a flip cover worth $40.
Source: Blogs.Windows.com.