Nokia is officially back with a new Android smartphone
Someone has named this an "Operation nostalgia"; others are convinced that the right train is now past. Nobody cares: now we can write with certainty that the smartphone market will include one of its protagonists again: Nokia is about to return, and does so with Android in the heart.
The news was made official through a series of ads that have appeared in the last hours. First, Microsoft, which has sent an official note in which formalizes the sale of feature phone division FIH Mobile, subsidiary of Foxconn. An operation of $ 350 million. Within this, however, fits the figure of HMD global, Finnish company (like Nokia) which acquired the rights to use the trademark on Nokia feature phones, smartphones and tablets for the next 10 years. The news of the agreement with HMD global in fact appeared a few minutes later from the headquarters of Nokia, with a tweet.
Although apparently it seems a deal with complicated implications, it is not actually. Because the leaders of the new Finnish company HMD global are nothing more than old leaders from Nokia. Two names in particular, Arto Nummela and Florian Seiche, both former Nokia executives. Nummela, with the sale of Nokia to Microsoft ($ 7 billion in 2013), was in the division of Microsoft Mobile Device. Now he will be the CEO of HMD global. The President, however, will be Seiche, currently senior vice president of Microsoft Mobile for sales and marketing in Europe. HMD has announced it will invest 500 million dollars in the next three years, "to support the global marketing of phones and tablet from Nokia brand." In addition, the rumors are already facing in one direction in the coming months as Nokia Technologies will sit on the board of HMD.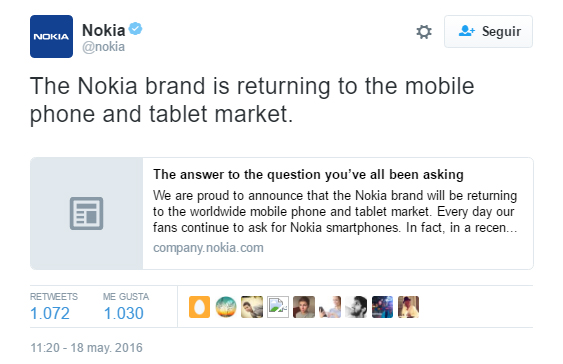 Meanwhile, Ramzi Haidamus, president of Nokia, said today's agreement with these words: "Today marks the beginning of an exciting new chapter for the Nokia brand in an area where Nokia is a truly iconic name. Nokia will not return to the mobile phone production in the first person, but HDM plans to produce the mobile phone and tablet able to leverage and grow the value of the Nokia brand in global markets. Working with HDM and FIH will allow us to participate in one of the largest markets in the consumer electronics world, while remaining faithful to our business model based on licenses."
Meanwhile, through an official note, Microsoft announced that it will continue to develop Windows 10 Mobile and support Lumia devices like Lumia 650, Lumia 950 and Lumia 950 XL and the OEM partners, such as Acer, Alcatel, HP, Trinity and VAIO.
Nokia is officially back with a new Android smartphone