Nokia A1 can be the great return of the famous brand with a mid-range Android smartphone
Nokia A1, the Nokia Android smartphone could be so: the alleged photo shows a terminal not too original, but the features seem to those of a mid-range. Many rumors circulating for months on the alleged return of Nokia in the smartphone stage through the Android port. In the Network circulates the first image, or alleged, of the Nokia A1, a smartphone that could be released, as reported by the source, during this summer.
Although it has the official status of a photo released by the Nokia press office, considering the reliability of the source, it is to be hoped that this is the right time. Immediately evident that the photo of this Nokia A1 spreads the network and shows a completely different device than the one depicted by rumor earlier. On closer inspection, it is a design that is certainly a miracle, and indeed seems pretty trivial when compared to the latest Nokia Lumia products. Nothing iconic, then, but only one rather traditional smartphone barely recognizable among many others, equipped with three front capacitive buttons canons and a plastic rear shell.
The image also shows the Nokia Z launcher with Android, although the icon of Nova leaves obviously understand that you can personalize your phone and make it even more similar to all other devices with Google's mobile operating system. Probably, as said by Android Authority, in software the device will be based on Android 6.0 Marshmallow. The Nokia A1 could be a mid-range device and not a real flower to eyelet of the manufacturer. In fact, the choice might make sense: it would be the first step to re-enter this market and test the water after a long absence.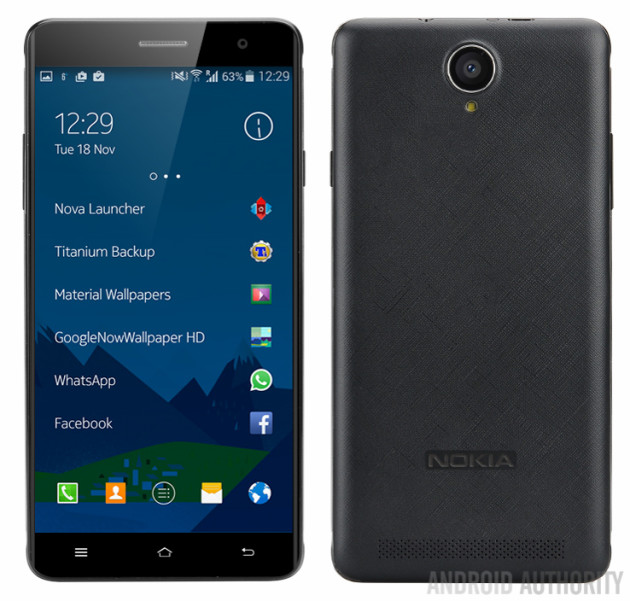 When in 2013 Microsoft acquired Nokia Devices and Services division, it imposed a clause in which the company could no longer produce smartphones under its own name until 2016. For this reason over the past several months rumors were circulated about the possible return of Nokia among the manufacturers of smartphones. These rumors have now become reality, in fact, via Android Authority, a source of the company announced the first render of Nokia A1, a new Android-based device.
As it can be seen from the render, it is presumably a mean-low-end device, with a back cover made of plastic and a not very innovative design. The interface should be based on Android 6.0 Marshmallow with some customizations like the Nokia Z Launcher. The leaked specifications are those of a 5.5-inch display with FHD resolution and a Qualcomm Snapdragon 652 processor.
Nokia A1 can be the great return of the famous brand with a mid-range Android smartphone