The Nexus 5 vs. the LG G2
The Nexus 5 vs. the LG G2
At first glance, the LG Nexus 5 looks pretty much like the LG G2 with classical buttons. However, if you pay closer attention, the differences become more evident. Here, we are going to analyze the differences between these two Android smartphones.
Both smartphones have very similar screen size and the same pixel resolution, but the Nexus 5 comes with Gorilla Glass 3. LG 2 used the older version of Gorilla Glass, so some differences might be expected in this matter.
If we look at the hardware, they look almost exactly the same. Both are powered by a quad-core Snapdragon 800 processor and have 2 GB of RAM. Both phones run Android, but the G2 runs Android 4.2.2, while the Nexus 5 runs the new Android 4.4 KitKat. The rest of the features are also the same for both devices: dual-band ac Wi-Fi, Bluetooth 4.0 LE, as well as a collection of useful sensors.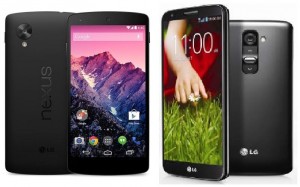 The cameras are both good, but if you compare a picture from each smartphone, the one acquired with the LG2 is clearly better. Looking at the specifications, LG 2 camera has 13 MegaPixels and Nexus 5 has 8 MP, and both have excellent optical image stabilization. The hardware is outstanding in both cases, the real differences are in the software. Good softwares needed to build .jpg files from image data have expensive licenses, so Google phones can't easily compete with Sony or Kodak in this field.
Both phones are impressive in all the aspects. Their performance is unquestionable, and there are only a few differences that we need to think about before we make the choice. Aside from the camera, there is the also the price. Nexus 5 is clearly cheaper, and it runs the last Android 4.4 KitKat. And there is also the outside appearance to consider (the LG 2 is soft and rounded and the Nexus 5 is hard and angular).
No matter which smartphone you choose, both are really great!
Source: AndroidCentral.