New tablets from Lenovo: Yoga Tablet 2 and Yoga Tablet 2 Pro
Lenovo has announced two new tablets that will be the new generation of Yoga series. The new devices are the Yoga Tablet 2, with 8 and 10-inch screen, and the Yoga Tablet 2 Pro, with a 13-inch screen. Let's look in more detail these new Lenovo devices.
Yoga Tablet 2
The new generation of the Yoga series are focused on versatility. They offer four working modes: hold, tilt, stand and hang. The latter type is new option that Lenovo offers, including a support for hanging the tablet, which can be used to comfortably watch a video.
Both models use an SoC Intel Atom processor and feature Wi-Fi connectivity and optional 4G. Both have an IPS screen with a resolution of 1920 x 1200 pixels, and 16 GB of internal memory. They also have an 8 MP rear camera with autofocus and a front one with 1.6 MP.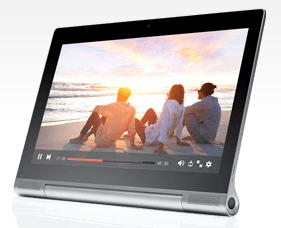 The 10-inch version has a 9600 mAh battery capable of providing 18 hours of standard use according to the company, while the 8-inch version gets the same autonomy with a 6400 mAh battery. In addition, the Yoga 2 10-inch tablet offers an optional Bluetooth keyboard.
Lenovo offers these tablets running either Android (4.4 KitKat) or Windows (8.1), but they don't have dual boot. The two models with Android operating system are on sale for $249.99 and $299.99 respectively, while the 10-inch version of Windows 8.1 is available for $399.99. The Yoga 2 8-inch with Windows OS will be coming soon.
Yoga Tablet 2 Pro
Lenovo has also introduced another tablet model, with some peculiar characteristics. The Yoga Tablet 2 Pro features a 13-inch display with QHD resolution (2560 x 1440 pixels). It has 32 GB of internal storage, expandable via micro SD, and as the previous models, it mounts an Atom Z3745 quad-core processor running at 1.86 GHz and 2 GB of RAM.
It includes the same cameras than the previous models, a 8MP rear camera and a 1.6 MP front one respectively, and the 9600 mAh battery is capable of providing 15 hours of autonomy.
The highlighted feature of this tablet, is the projector and sound system that the device includes in the holder. It is capable of projecting an 50-inch image at a distance of 6 feet.. The front includes JBL Dolby surround speakers and a 5W subwoofer.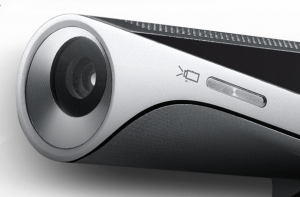 The Tablet Yoga Pro 2 will be released this month, and is already available at the Lenovo's website for $499.99.