The new smartwatch Samsung Galaxy Gear is available
The new smartwatch Samsung Galaxy Gear is available
– Emma Rossinyol –
The new Samsung Galaxy Note 3 and Galaxy Gear are now available at the market. The company has officially presented its first smartwatch for Android devices, the Galaxy Gear. This new smartwatch is launched to compete mainly with Pebble and Sony, the most important companies with commercial smartwatches. The design is similar to a conventional watch, with a rectangular screen and a durable appearance. Which are the possibilities that this new smartwatch offers? Well, keeping in mind the idea that your smartwatch is a direct link with your smartphone, the Galaxy Gear includes some interesting features:
. Quick glance notifications. All the important informations (calls, texts, events, etc.) are received in your wrist. You can give a quick glance to your smartwatch and decided if you want to read the whole information in the Galaxy phone. If this is the case, the Smart Realy feature automatically opens that application to the message you are seeing on your wrist. . Hands-Free-Calls directly from your Galaxy Gear. . S Voice to use all kinds of voice commands. . Easy customization of camera settings, appearance, features and applications.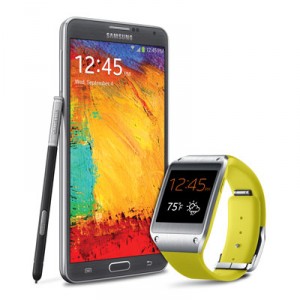 So, basically, with this smartwatch we can take pictures, check the weather forecast, consult the messages, calls and messages received and use the phone as a hands-free device. And obviously, you can see the date and hour.
The display size is 1.63″, Super AMOLED® with a resolution of 320 x 320. The Galaxy Gear, running Customized Android™, has 800 MHz CPU and 4 Gb + 512 Mb (RAM). The smartwatch also includes a 1.9Mp camera with Auto Focus and HD 720p video recording. It is available on the market for $299. You can find more information at www.samsung.com. However, I recommend you to have a look at the official company commercial shot, you will find a really creative work in just 1.44 minutes run.