The new Samsung Note Pro and Tab Pro Tablets
The new Samsung Note Pro and Tab Pro Tablets
Samsung has used the last CES in Las Vegas to announce its new series of tablets. The company has introduced four new devices, with screens ranging from 8.4 up to 12.2 inches. Three of them belong to the Galaxy Tab PRO series and the fourth is the new Galaxy Note Pro.
All run the latest version of Android with the typical Samsung customization and include a number of content and premium services. These are the characteristics of each model:
Samsung Galaxy Note Pro. It is the higher version of the 2014 Galaxy Note 10.1, with the Pen stylus included as well as all its related features. Like the other tablets presented, it runs Android 4.4 KitKat with the customized Samsung's TouchWiz.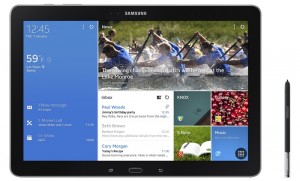 Samsung Galaxy Tab Pro series. They are similar to the Note Pro but without the S Pen stylus. There are three models available: 8.4, 10.1, and 12.2 inches and they come with Wi-Fi and the option to include also mobile data.
The four tablets have the same impressive specifications:
Processor: WiFi and 3G: Exynos 5 Octa (1.9 GHz QuadCore 1.3 GHz Quadcore +), LTE: Snapdragon 2.3GHz Quad 800 RAM: 3GB Camera: 8MP (rear) and 2MP (front) Memory: 32/64GB and microSD Battery: 9500mAh
All tablets display a resolution of 2560×1600 pixels, even the 8.4-inch. In the case of the larger tablets, in order to maximize the possibilities of this type of wide display, Samsung offers a custom Magazine UX. With this interface, the Note Pro and the 12.2-inch Tab Pro can offer a reading experience similar to digital magazines or e-books.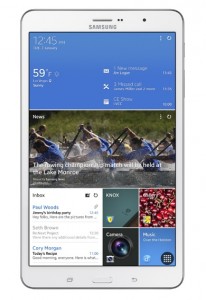 All tablets come with a gift package consisting of the following:
Bitcasa: 1TB storage for 3 months Bloomberg Businessweek: Free Subscription: 12 Months BlurbFree Coupon Cisco WebEx Meetings: 6 month free subscription and unlimited meetings Dropbox: Free 50 GB for 2 years (100GB for $99/year) EasilyDo Pro: Free app purchase Evernote: 3-12 month free subscription (dependent on country) Hancom Office: Free Subscription LinkedIn: 3 months of LinkedIn Premium Membership LIVESPORT.TV: 6 month free subscription NY Times: Free Subscription: 12 weeks Oxford Advanced Learner's A-Z: Free app purchase Remote PC: 2 year free subscription Sketchbook Pro: Free app purchase
They are scheduled to be available in market soon, although no official date or price is currently known.
More information at SamsungTomorrow.
Source: AndroidPolice.