The new LG Optimus F3Q QWERTY slider
The new LG Optimus F3Q QWERTY slider
Good news for all the fans of physical keywords. @evleaks showed the image of a new LG smartphone with slide-out QWERTY keypad. It's named Optimus F3Q and has a five-row landscape-sliding keyboard.
Physical keyboards have been systematically disappearing from the market as the new devices exhibit bigger screens with improved virtual keyboard. Lots of apps like Stock, Swiftkey or Swype are widely used to effectively write on a relatively small Smartphone display. However, not everybody feels comfortable writing on these virtual keyboards, and they still prefer the physical ones. Unfortunately for them, the market has seen its number reduced dramatically this lasts years, to the point where only a few models are currently available – basically the Samsung Stratosphere II, the LG Enact and a couple of Blackberry ones.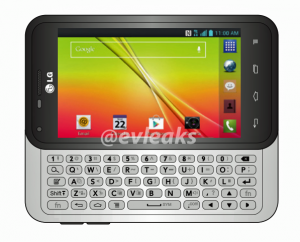 The Optimus F3Q seems designed to fill this empty place on the market. If the image provided by @evleaks is correct, the device displays a custom LG user interface with 4G LTE connectivity, NFC, and four Android capacitive navigation keys. The specification details of this new F3Q are still unknown but it doesn't look like a high-end device. The original Optimus F3 was launched on Virgin Mobile over the summer with a dual-core 1.2GHz CPU, a 4-inch display and Android 4.1.2 Jelly Bean. So, we can expect something similar for the F3Q model, which would be a version of the F3 with physical keyboard.
This device will be offered by T-Mobile, and it's designed to compete mainly against the LG Enact offered by Verizon. LG Enact uses a 4-inch screen with 800×480 pixel resolution, a 1.2 GHz Snapdragon 400 CPU, 8GB of storage, and a 5MP rear camera.
There is still no information about when the Optimus F3Q will be available or how much it could cost. However, if these specs are close to the real device, the price will not be high.
Source:
AndroidAndMe
.