New information about HTC M8
New information about HTC M8
The new information concerning the HTC M8, the supposed successor of the HTC One, is becoming more and more frequent. The device is going to be launched soon, so the leaks are going to be more numerous as the releasing month approaches. We probably are about 3 months away from an official unveiling of HTC's follow up to the One, which will take place between January and March. Do you want to ROOT your HTC One M8? Go into our section about ROOT HTC One M8 were we're preparing all available rooting methods to ROOT HTC One M8
A few days ago we saw its casing, with a possible fingerprint scan like the One Max. This is not a surprise, since the One Max already has one, however the situation of the sensor is slightly different. In these images, it appears on top of the camera lens. The overall appearance is similar to this year's them. This seems to agree with Apple and Samsung's policy to do a redesign every two years. However, we need to keep in mind that these images are only prototypes, so the final product might be quite different.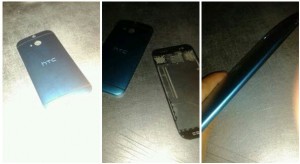 @evleaks also tweeted an interesting piece of information just a few days ago. He announced that the HTC M8 will be heading to AT&T 'among others'. The device is supposed to be launched during the first quadrimestre of 2014, and it will be the flagship with AT&T, Verizon, Sprint, and T-Mobile right from the beginning. Thus, it will not happen again the mishap of the HTC One, which appeared six months late on Verizon.
The last news provided by @evleaks concerns the specifications of the new HTC M8. According to him, the device will have "a 5-inch, 1080p handset powered by KitKat and a Snapdragon 800." These specifications means an improvement respect the HTC One's 4.7-inch display and Snapdragon 600 processor.
These are just the first of many more leaks that will appear in the next months. As the new year approaches, we will know more a more things about the new HTC device.
Source: @evleaks