New Huawei Nexus 6P completely leaked for tomorrow
It was very difficult not to hear again anything about new Google Nexus being so near of their official launch. We have been months receiving information for the next two models that will be part of the Google family of terminals, and just two days before being officially introduced to the world we have full specifications of the Huawei Nexus 6P, with pictures included.
At this point, shortly we will be surprised, because the leaks that have been happening throughout this summer have put us in on virtually every one of the features that will have the new Nexus 6P. However, nothing was confirmed yet, but now we can say we know thoroughly the terminal manufactured by Huawei.
Thus, images that have been leaked speak of a screen of 5.7 with WQHD resolution and Gorilla Glass 4 protection. A heart composed of Snapdragon 810 processor and a battery of 3450 mAh. The smartphone will be completely built in metal unibody, including in the back the fingerprint reader (as we knew), and will have two speakers and a universal connector type C.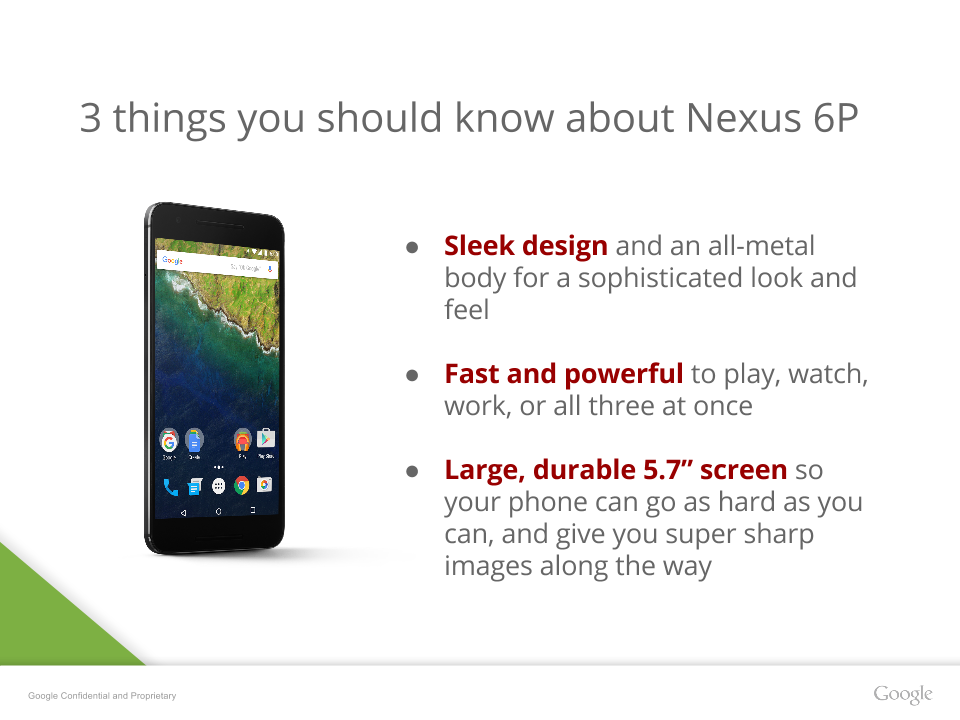 Another aspect also leaked a few weeks ago was the operating system under which both would work like this Nexus 6P and the LG Nexus 5X. They are the first devices to receive Android 6.0 Marshmallow. Nexus 6P will be available in four familiar colors (white, black, silver and gold), but maybe gold would only be available in Japan for the launch. In addition, there are three different versions available of 32 GB, 64 GB and 128 GB.
We will have to wait until next September 29th so that Google confirmes official prices and release dates, as they will be of little new that Google may disclose to the public after such filtration.
New Huawei Nexus 6P completely leaked for tomorrow