New beta of WhatsApp with Material Design
WhatsApp 2.12.84 came to Google Play a few hours ago. That version of WhatsApp had made more cosmetic changes to date than the rest, as finally introduced Material Design, the new standard that came with Android Lollipop.
Thus, in the most used instant messaging application, everyone can enjoy the circular images and contacts, transparent state bar, redesigned icons, new animations, and ultimately a much more modern and attractive design. However, in this new version there are still elements that were with Holo style, but to end it, we have a new beta, which can be downloaded from the own website of WhatsApp. We are talking about WhatsApp 2.12.87, breathing even more Material Design if possible.
Specifically, there were still adapting to the new design apart as interface calls. In the following screen we can see the changes easily, being left the appearance of the current version of Google Play, and the other two with the new interface.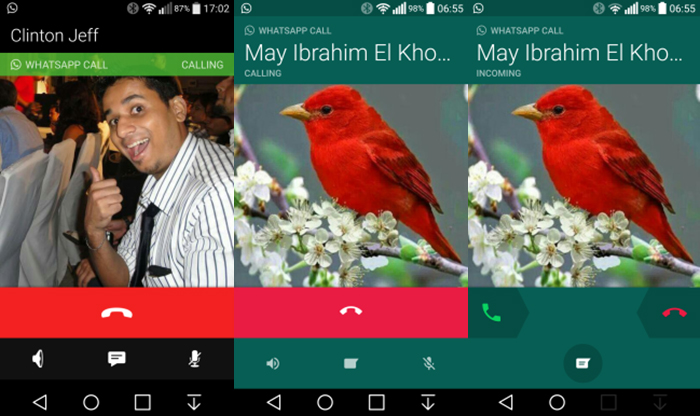 As we can see, it makes use of dark green instead of clear and bright green, and the source of the contact is much larger. Phone icons, speaker, microphone and message have also changed and are now smaller, thus achieving a cleaner feel, and a more contemporary overall look.
In addition, it has also undergone a facelift the default wallpaper we see in WhatsApp chats. They have tweaked a little strokes of the drawing, and has been given a lighter shade, to make a better match with Material Design (new version on the right).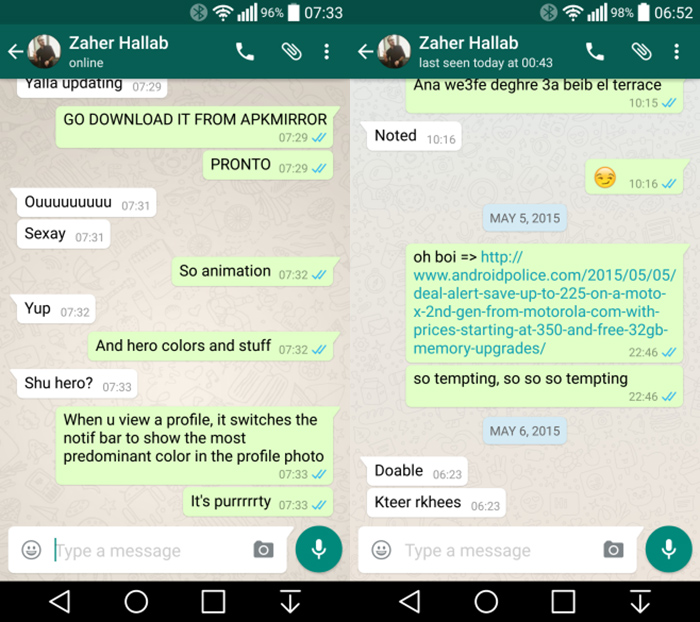 Although there are some small developments, these are the most important changes in the new beta version, which is not yet in Google Play, and probably will never be, because usually normal version is updated after a few betas, when the changes are more substantial.
Then we leave the link so that you can download and install the APK file WhatsApp 2.12.87 (remember that you must have marked the "Unknown sources" option in the security section, within the settings of your smartphone).
Download | WhatsApp 2.12.87
New beta of WhatsApp with Material Design