Neptune Pine Smartwatch
Neptune Pine Smartwatch
The Neptune Pine is a big smartwatch equipped with lots of features and high level functionalities. Neptune Computer launched a Kickstarter 33-day campaign that raised more than $350,000.
But the amazing features of this device are the hardware. It supports 2G, 3G, Wi-Fi, GPS and Bluetooth 4.0. The Neptune Pine has a 1.2 GHz dual-core Qualcomm Dragon Snapdragon S4, 512 MB of RAM and 16 or 32 GB of storage. It runs Android Jelly Bean 4.1.2.
It supports quad-band UMTS/HSPA+/WCDMA and quad-band GSM/GPRS/EDGE, so you can make and receive phone calls and send SMS messages on most wireless carriers worldwide.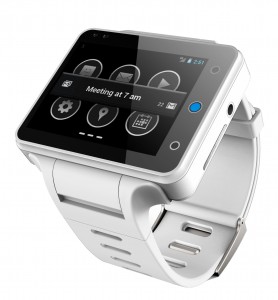 The most arguable feature is the big screen. The Neptune Pine has a 2.4-inch QVGA capacitive touchscreen, with a full QWERTY keyboard and Google Now. It sounds great, but it is an incredibly big device to wear on your wrist, no matter how many features it can display.
With Android's powerful voice input engine, you can enter text by speaking directly to your Neptune Pine. And with Voice Actions, you can perform various tasks through voice such as setting appointments, playing songs, and calling a contact.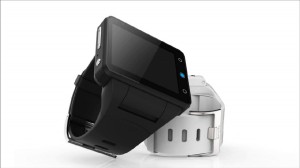 The battery lasts for eight hours of talk time, seven hours of Web browsing, or 10 hours of music playing. When you have it on standby, it will last up to five days.
This smartphone includes two cameras: a front VGA camera with a LED that doubles as a heart-rate monitor and enables video chat, and a rear 5 MP camera which shoots also images and HD video. The Pine also supports all of the existing video-chatting services on Android, such as Skype, Fring and Tango.
These are some other specifications: • The device has a built-in speaker and a microphone and supports 48 languages. • Both the front and rear cameras have LED flash. • The Pine has several sensors buildt-in, such as accelerometer, gyroscope, pedometer and digital compass. It also supports a variety of fitness apps. • It has a micro-SIM card slot.
More information at Neptune Pine.