Mount & Blade: Warband is available for Nvidia Tegra 4
Mount & Blade: Warband is available for Nvidia Tegra 4
Mount & Blade: Warband, the classic strategy game for PC has been adapted for mobile devices. In this case, the company has decided to keep the original story of the game and adapt the controls to new mobile devices with touch screens.
For those who don't know the original game, Mount & Blade: Warband is a mixture of adventure, action and RPG in a medieval world based on strategy between feudal lords. The game has two modes: single player and multiplayer.
In the single player mode we can join any of the six factions present. We start the game as a mere adventurer, and we have to slowly recruit people to form a small army and gradually aspire to greater challenges. So, we will move from challenge the local bandits to be part of an open war between the different fractions. It takes time and planning to improve our combat units, create a good reputation with different heroes and raise our faction to control the whole country. The game map consists of many villages, castles and fortifications, and our goal is to unify all of them under our fraction's control.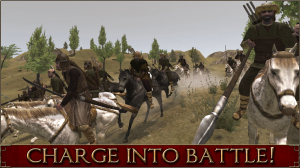 Mount & Blade has a great combat system, where we have to fight with all sorts of weapons while riding our warhorse. The controls in the original PC game were complicated to master, as they were focused on accuracy. It will be a challenge to master the combat mode in SHIELD and touch screens.
The multiplayer, however, is designed for intense games. In this case, we will find battles between teams of 64 people in different style, including siege and defense.
The game is available in the Play Store for $6.99. Remember that it requires Gamepad and is only compatible with Nvidia SHIELD and some Tegra 4 devices.
Sources: Android4all and AndroidPolice.