Motorola partners with 3D Systems for modular phones
Motorola partners with 3D Systems for modular phones
Motorola has announced that partners with 3D Systems, a manufacturer of 3D printers, to bring the Ara concept into real-life. Motorola announced last October its work with Project Ara in the development of modular phones. The concept was first introduced in September by Dave Hakkens, who presented the idea called Phoneblocks with a YouTube video.
The Project Ara wants to create highly customizable modular phones with interchangeable modules. When these devices became a reality, you will be able to change not only its look but also its main parts. You could replace your camera for a new one, add more RAM or substitute a broken screen. All the components are attached to the phone's main frame, named an endoskeleton, which held together all the parts.
Now 3D Systems has teamed up with Motorola for a multi-year development project to create a continuous high-speed 3D printing production platform. The CEO of 3D Systems, Avi Reichental, said:
"Project Ara was conceived to build a platform that empowers consumers all over the world with customization for a product made by and for the individual."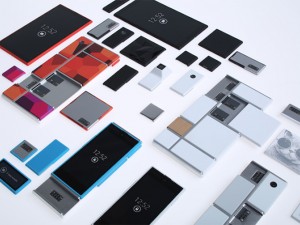 A few weeks ago, we describe Project Ara as the developers of a free, open hardware platform, following the same idea for hardware than Android had done for software. The main idea of this Motorola project is to build a collection of modules and an endoskeleton that will hold the modules together.
Motorola will announce the alpha release of the MDK in the next months, while Project Ara is still recruiting volunteers to collaborate with them. Motorola has encouraged its developers to start with the building of their own block, with the idea to get an alpha version of the dev kit for a possible launch this winter.
The main drawback of this modular phones is the size. As each component need to include its own set of contact pins to connect with the endoskeleton, the size of the final phone is going to be much bigger than the usual phones currently available on the market.
More information at 3D Systems.
Via: TechRadar.