Motorola announces Moto G
Motorola announces Moto G
Motorola has announced today the Moto G, a slightly lower versions of the Moto X. It's a cheap wide-ranging model that will be sold on Motorola's online store directly to customers without a contract. The most remarkable factor in Moto G is the price: $179 for the 8 GB model and $199 for the 16 GB model. The company says that Moto G is a device for price-conscious consumers who don't want to pay $600 or more for high-end smartphones.
Moto G is very similar to Moto X. The screen is little smaller (4.5'') but keeps the same 720p resolutions. Te smartphone is powere dby a a 1.2Ghz Qualcomm Snapdragon 400 and 1GB of RAM. It h as two cameras: a 5 MP rear camera and 1.3 MP on the front. The batery is only 2070 mAh, but Motorola says that it last "33% longer (14 hours of talk time). Moto G will run Android 4.3 and light Motorola software on top. An update for KitKat 4.4 is scheduled for January 2014.
Moto G comes with 50 GB extra of free Google Drive storage for two years. It has also a removable rear panel interchangeable for a plastic panel available in different c olors. Below, you can find Motorola's first Moto G commercial.
http://www.youtube.com/watch?feature=player_embedded&v=VunSqD1MOjE
It has no competitors in the mid-range device, as any other smartphone with these specifications needs a contract to be sold for a similar price. Moto G is launched today in parts of Europe and Brazil, and will be available in the rest of Europe, Canada, Latin America, and some parts of Asia in the next few weeks. The US version is programmed to be launched in January, and no news about the contact price has been provided so far.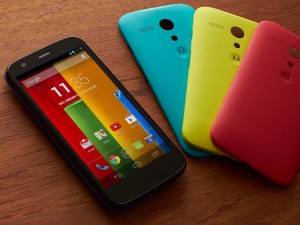 More information at: Motorola's Blog.
Source: AndroidPolice.