Motorola Affinity or possible Moto E 2016 has been spotted on the network
Moto E is a successful device for Motorola, able to convince many consumers in search of a device by the low price, but without excessive compromise in quality; in this 2016 many are waiting for the new version of the smartphone, whose first details seem to emerge today.
Under the name code of Affinity may in fact conceal its Moto E 2016, which (unlike the previous models) should mount a 5-inch display; being a smartphone that position itself in the low-end market, although the price of about $78 may differ from what will be its actual selling price. Motorola could be decided to increase the size of Moto E, and the measure chosen coincides with the minimum indicated by the vice president of Lenovo Group Xudong Chen, when earlier this year had created the conditions for the presence of a fingerprint sensor on the Moto series devices.
The same day Moto E 2015 has been updated to Android 6.0 Marshmallow, we found on the internet a Moto device with larger display, a sensor for fingerprints and a competitive price, and this way the Moto E 2016 could really continue the series of successes of Motorola. This smartphone that could be an alleged Moto E 2016 is being tested in India and the news was leaked from the price list of a known carrier (Zauba) that deals with import and export electronic components from the Indian peninsula. The list shows the components of a device that responds to the name of Motorola Affinity, but we have reason to think this is just the famous entry level.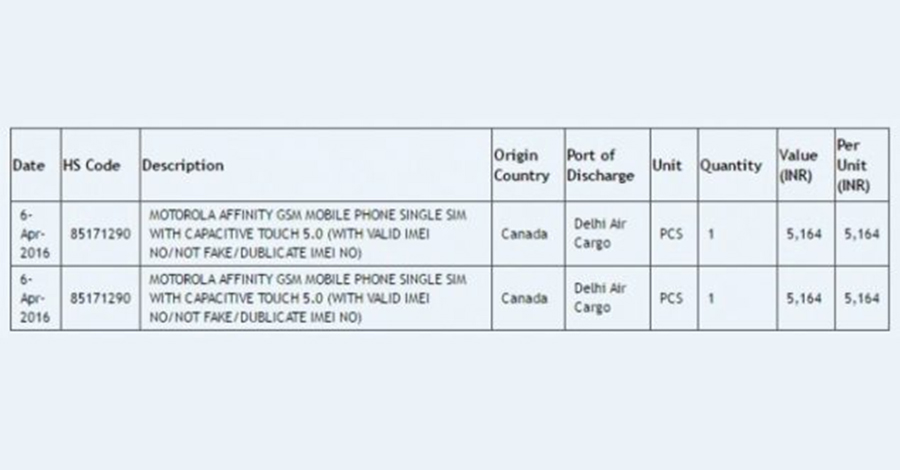 The other piece of information on Moto E comes from Lenovo, as many know the American manufacturer Motorola has been recently acquired by Lenovo, and it has launched the new brand Moto by Lenovo. The Executive Director of this Chinese manufacturer said a few months ago that all devices of this brand to be released in 2016 will be equipped with a fingerprint reader.
Then we will see one even in the Moto E 2016, and it was pretty obvious since produce this type of component has become extremely cheap. Moto G4 and G5 Plus, according to recent rumors, will be officially launched on June 9. There is therefore the likelihood it will do the same thing with the economic low-end model Moto E 2016.
Motorola Affinity or possible Moto E 2016 has been spotted on the network