Microsoft launches its own mini application store for Android in Google Play Store
Microsoft, as a company dedicated to software and hardware, in addition to presence in the market with its range of phones, tablets and PCs devices, also seeks to play a role in other platforms where users want to make use of its services. In fact, some of these as OneDrive or Office Mobile are quite successful among users of Android and iOS, not to mention the recent acquisitions as Wunderlist or Sunrise Calendar.
To provide users of Android the task of locating all applications of Redmond's company that are available in the Google mobile operating system, the company recently launched an application, or mini application store, basically what it does is put together all that have been published under the same catalog. Thus, this new application called Microsoft Apps will have direct access to download the Microsoft's offer.
This new application works, as we said, as if it were an application store grouping all the things Microsoft has released in Google Play in different categories such as Communication, Education, Finance, Photography and others. It also offers you the ability to see which applications are the most popular on Android, although it seems that for the installation process you will have to eventually go to the Google Play application.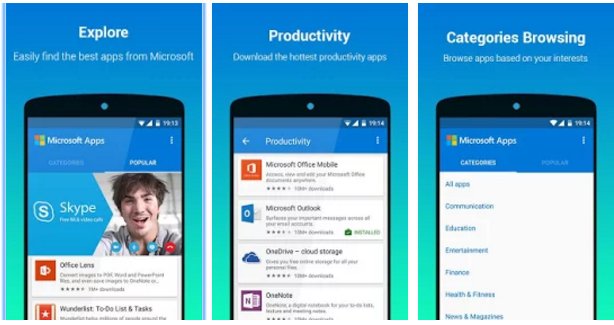 Such decisions are usually not much for Microsoft's followers to consider putting more effort into other platforms in their own but do not forget that where more money make the Redmond is in the business sector, and should continue to maintain its position to become attractive to all users, rather be isolated on its own platform and wait for others to come to it. This, of course, does not mean they are not devoting most of their resources on Windows 10 and Windows 10 Mobile, is simply having a presence on several fronts.
Microsoft has a handful of applications in the operating system and therefore Google is launching something called Microsoft Apps, an application that actually does is having them all in one package. Between Microsoft apps for Android are some popular well as Xbox Live, Skype or the same Office; perhaps more than people would expect.
Microsoft launches its own mini application store for Android in Google Play Store