Look of the Sony interface in Android 6.0 Marshmallow is revealed
Android 6.0 Marshmallow update for Sony is advancing steadily toward its landing on everyone device, and it is only a matter of time that the owners of the Sony Xperia Z5, Sony Xperia Z5 Compact and Sony Xperia Z5 Premium begin to receive the final version of Android 6.0.
Meanwhile, a select group of lucky users-owners of Xperia Z3 are being testing and updating to Marshmallow weeks ago, and thanks to this we are learning what it will look Android 6.0 update for Sony devices. Precisely from this test version, this time we echo some screenshots of the Marshmallow interface of Sony. We assume that, as the owners of the Sony Xperia Z3 they have access to this test version, the interface in Sony Android 6.0 Marshmallow works much more smoothly compared to previous versions of Android.
As we read in AndroidAuthority Xperia users have a choice between two different layouts for the main screen: "Classic", which allows you to sort folders and shortcuts on the main screen freely, and "Modern," which shows the home screen all the applications installed on the smartphone. In short, it seems that what Sony has attempted is to bring everything to a pure version of Android interface. Also, as has been echoed in XperiaBlog, a recent update (MDB08M.Z1.2153) test version of the Android 6.0 Marshmallow on the Xperia Z3 has brought support for Sony Shop Themes, an option to take screenshots from the shutdown menu and an option to set main screens.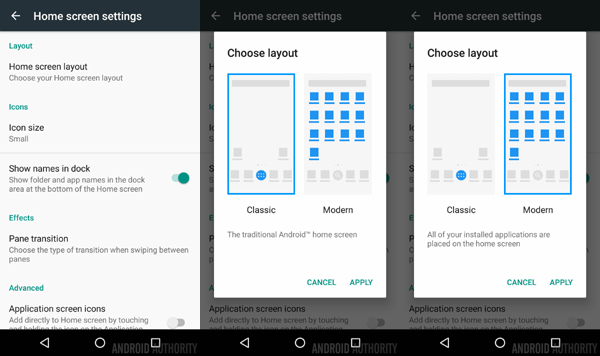 The second option already exists in versions of Lollipop, although in the case of Marshmallow seems to take up more space on the screen; in the case of the third option, that of establishing main screens, we are talking about a shortcut that allows us to choose the screen we want to appear when we unlock the device (ie, rather than necessarily display the screen that contains the clock we can choose to have either the second or third screen displayed in this case).
Of course, we are talking about a test version, and there is the possibility that not all of these modifications are included in the final version of Android 6.0 on Sony. Sony itself, moreover, has already confirmed the motives of the Xperia range will be updated Marshmallow, and within months the distribution of this update will be realized.
Look of the Sony interface in Android 6.0 Marshmallow is revealed