LG Nexus 5 is available
LG Nexus 5 is available
After a week of daily leaks, the LG Nexus 5 is finally available. The new high level smartphone is official, running the awaited Android 4.4 KitKat. The LG Nexus 5 is available on the Play Store, with a price of $349 for 16 GB memory and $399 for 32 GB. You can choose between black and white models.
The specifications are exactly the leaked ones, which send the LG Nexus 5 to the top of the high-level smartphones. The best improvement regarding its predecessor is that it does support LTE.
The screen is almost 5'', with a resolution of 1920×1080 (with 445 ppi), with Corning Gorilla Glass 3, which is theoretically very durable. Nexus 5 is powered by a 2.3 quad-core Qualcomm Snapdragon 800 processor and 2 GB of RAM. You can choose an storage of 16 GB or 32 GB (for $50 extra).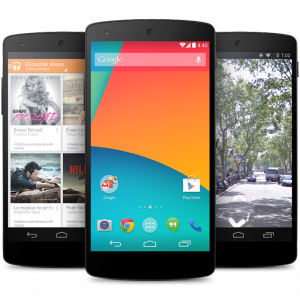 Traditionally, camera has been the weak point of Nexus phones, and it may still be. Nexus 5 has a 8 MP rear camera with optical image stabilization (IOS) and a 1.3 MP front camera. Despite the IOS, it doesn't seem to compete with iPhone 5S or Lumia 1020 imaging capabilities.
The battery could also be a problem. The phone must be really consumption optimized to go through the whole day with a 2300 mAh battery. We need to wait and see how it works.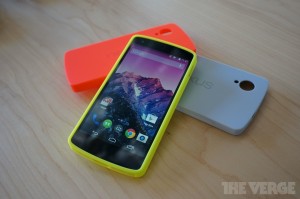 Together with the Nexus 5, LG and Google offer some cases for their new device (Bumper Case). They are full-protecting and you can choose between black, red, grey, and yellow for the remarkable price of $34.99. Or you can decide to buy a Quickcover case, similar to the other ones but includes a front cover. For $49.99 you can buy one (only in black or white) and it works with the wireless battery charger, so you can recharge your Nexus 5 without removing the cover.