Lenovo A10, the first Lenovo laptop running Android
Lenovo A10, the first Lenovo laptop running Android.
Lenovo has announced the new Lenovo A10 laptop. It's affordable, really portable and the first laptop from Lenovo to run on Android 4.2. It weighs less than 1 Kg and measures 17.3 mm at its thickest point. With this features, the Lenovo A10 has been designed for the users on the go, including a wide range of applications in a dual-mode platform.
The new Android laptop from Lenovo has a quad-core Cortex-A9 processor, running at a maximum frequency of 1.6GHz, the highest frequency for all quad-core ARM-based CPUs currently available. These features ensure good performance for gaming and entertainment, and can work fine at multitasking. The battery last up to nine hours of video, not a bad achievement for an ultraportable device.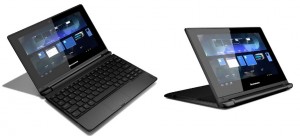 The A10 laptop comes with a Lenovo-customized user interface, including an app launcher, task bar and status bar for quick, intuitive access to the app library and desktop, as well as convenient multitasking and app switching.
The screen is 10.1 inch with HD resolutions (1366×768), and can be flipped 300 degrees. This position is optimized for touch-enabled apps and entertainment. It also includes a 0.3M webcam and stereo speakers to ensure a good communication performance.
The pricing and availability can vary per region, but it's expected to be an affordable laptop. Currently, the Lenovo A10 laptop is available at Amazon Germany for €249, and next month will be officially presented. The launch is so close that you can have a look at the manual, already available in Lenovo's website.
Lenovo is a Chinese personal technology company widely known for the acquisition of the former IBM Personal Computing Division. It is currently the second largest in the world, with customers in more than 160 countries. Lenovo has a wide range of high-quality products, including PCs, servers, workstations, tablets, mobiles and smart phones.
For more information: Lenovo.
Source: Lenovo news.