Kickstarter makes possible the new SmartWatch Hot
A new smartwatch is comming now. If some time ago we know thant Samsung was registering the name Samsung Galaxy Gear for a new project, now we have seen the viability of a project arise from the crowdfunding site Kickstarter, and it obtained more than $150,000 in practically 30 hours. Watch called
SmartWatch Hot
, a new gadget that is on track to become the new fashion accessory.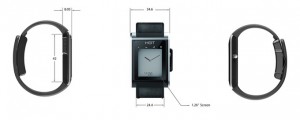 Functions
This new SmartWatch Hot includes some previously unknown features such as private call. This is possible thanks to the new connection
Bluetooth BT 4.0
low power to perform actions directly from the watch itself, and the technology called
Hands On Talk
which is able to project sound directly to the ear using the hand as an amplifier. This will let you to have a conversation by phone while people cant listen it and you wont need ever touch the phone. This gadget can also receive and reply messages (SMS, email, Facebook and Twitter) thanks to a touch e-paper display with high contrast and low power consumption. Awesome!
Other features
Sync contacts Accounting functions Pedometer with steps, distance, burned calories… Automatic detection system of shipping accidents emergency signal. Remote control from the phone for associated native players. Voice recognition and voice assistant type Siri or Sherpa. Clock, alarms, stopwatches, world times functions… In addition, you will be able to install smartphone apps.
Easy to use
This new device incorporates different ways of use it. For example, using GESTURES HOT™ technology you can use hand movements to perform different actions like answering a call. The HOT GESTURES™-TOUCH to perform actions simply by writing a letter with your finger on the screen to access the phone features. For example, if you type the letter "S" on the screen, automatically it can execute an app or other commands. Click below to watch a video about how the SmartWatch Hot. If you want to know more about this amazing device you have the link to the
Kickstarter official website
.