Instagram 5.0 is now available for iOS and Android.
Instagram 5.0 is now available for iOS and Android.
Today, a new Instagram update with some interesting improvements has been released. The most interesting characteristic is Instagram Direct, a feature that lets you send photos or videos to groups of people. This opens the possibility to send private messages to a particular person or a group up to 15 friends. These pictures or videos posted are hidden and they are not shown on the news, in the searches or in the profile.
Using the new feature of Instagram Direct is easy. Once we have uploaded the photo or video, we can add effects and include a caption. When the image is ready, we just need to activate "Direct", and some functions will be displayed in green. Now we can select the person or the group ( up to 15 people) and send them the photo.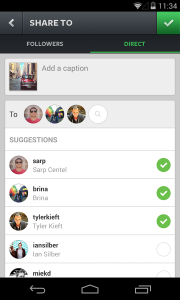 The people who have received a publication will be notified. We can see in real time who has seen the picture, and if they liked it or the comments that they have made.
With Instagram Direct, we also have the ability to send photos or videos to anyone, even to people we are not following. When a publication is sent to someone who does not follow us, it goes to the request queue until it accepts it. From that moment on, the publications we send to that person are directly saved to the direct publications. Similarly, when someone who we do not follow sends us a publication, it is saved to our request queue.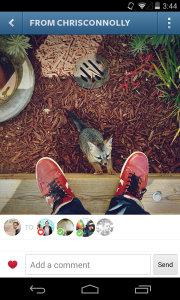 We can ignore the posts from people who are not interested in or block someone who bothers us. When we block someone, they cannot find our Instagram account or see our photos and videos. The blocked user will not receive any notification about our actions.
We can download the application for iOS and Android from iTunes or the Play Store respectively.
Source : Instagram.