Iconia Tab 7 and Iconia One 7, the new tablets from Acer
Iconia Tab 7 and Iconia One 7, the new tablets from Acer
Yesterday "A Touch More Connected" was held in New York, an event where Acer introduced several new devices, including these two tablets that we can find with a rather affordable price.
The Acer Iconia Tab 7 is a mixture of phone and tablet (or a large 7-inch phablet), designed as a terminal capable of combining the advantages of both devices.It has the option to make phone calls through the 3G connectivity option, something that different companies are including in some 7-inch tablets.
It has a quad core processor and micro SD card slot. It also includes two cameras, front and rear, with specifications that vary depending on the model. The screen is an IPS 7-inch size and its resolution also depends on the model available in our region. The battery lasts for 6 hours of use.
One model has an IPS screen with 1280 x 800 pixels resolution and anti-fingerprint coating, 5 MP rear camera and comes with Android 4.4. The other model has a screen of 1024 x 600 pixels, a 2MP camera and comes with Android 4.2, but Acer has already announced that it will be updated to Android 4.4.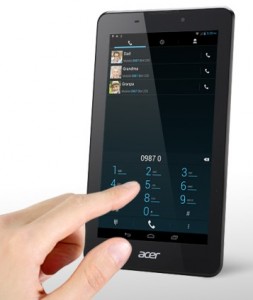 The Acer Iconia Tab 7 is available in black and white. It features a width of 11.6 cm and a thickness of 0.89 cm, with a weight of 298 g. It goes on sale in Europe, Africa and the Middle East in mid-May for €149 and it will arrive at Latin America in late June.
The other tablet announced by Acer is the Iconia One 7. This is a tablet (you cannot make phone calls) also available with a price designed for families or for recreational use (games and multimedia).It carries a dual-core processor from Intel, the Atom™ Z2560 and a 7-inch IPS display with 1280×800 pixel resolution and a 16:10 aspect ratio, optimized for a better video experience. It includes two speakers and also has a microSD card slot.
The Iconia One 7 has two cameras too, front and rear, and a battery capable of withstanding 7 hours of video. It comes with Android 4.2 Jelly Bean, but it will be updated to Android 4.4 KitKat.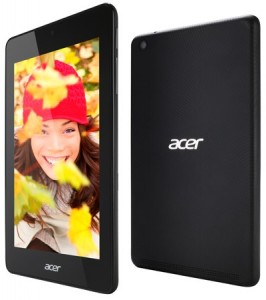 It will be available in five colors: red, white, black, blue and pink. The Iconia One 7 will be available at the same time than the previous model, and it will be priced from $129.99.
Both models can expand its memory capacity using the storage service in the cloud offered by Acer, the AcerCloud, making easy to share videos, photos, music and documents between different devices and platforms.
You can find more information on Acer 's website, where you can check the details for the Iconia Tab 7 and the Iconia One 7 repectively.
Source: Acer Iconia Tab 7 and Acer Iconia One 7.
Via: AndroidPolice.