Huawei TalkBand B2 is now available
After its presentation at the MWC in Barcelona in March, the new intelligent wereable developed by the Chinese brand comes in two different models, one costing $179 (€169) in silver, and another in gold version at the price of €199. This SmartBand highlights the ability to easily remove the core bracelet, made of aluminum, and use it as a speakerphone.
The Chinese firm was showing an attractive Huawei Watch with the promise of becoming perhaps the most beautiful watch in Android Wear catalog. Huawei TalkBand B2 will be also available on Amazon starting next June 15 by a somewhat cheaper price. In addition, soon it will also be available in physical stores.
This SmartBand features a touch screen P-moled 0.73 inch screen with microphone that includes noise canceling function and has a motion sensor that automatically monitors with six axes all your activity, distinguishing when you walk, run, you go on bike or whatever, in addition to analyzing your sleep. It is useful for many things you can have in mind, even though you are not a runner, you will like its stylish design.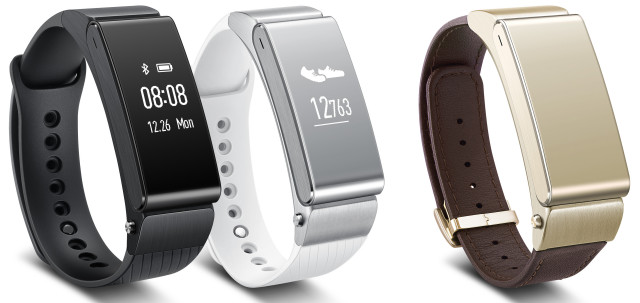 Bracelet offers interesting options, but also has some limitations, such as the fact that notification is not compatible with third-party applications, which prevents you to be warn, for example, receiving a WhatsApp, but considering the great size of some of the smartphones of the brand your headset can be useful, but you can find smartwatches with many more possibilities.
It is promised an autonomy of five days and an advanced stylish rounded quantifier, that makes it an interesting device that not integrate heart rate monitor. The Huawei TalkBand B2 is also compatible with Android and iOS universally, not only for Chinese brand terminals, a detail that probably many users will appreciate.
Huawei TalkBand B2 is now available