Huawei presents the Honor Holly
Huawei introduced the Honor brand a few months ago and since then, they have launched several devices to the European market. They began with the Honor 6, a high-end device at a really reasonable price, which has received quite good reviews.
Honor also sales the Honor 3C and the Honor T1, a mid-range phone and a 8 inch tablet respectively. Both have also received good reviews from the press, and with them, Huawei is growing a good reputation around its European brand Honor.
Now they will launch a new terminal for the low-medium market, the Honor Holly, probably meant to compete with the Moto G.
Generally speaking, it is very similar to the Honor 3C smartphone but it has less RAM and less battery, and its full size is also slightly thicker.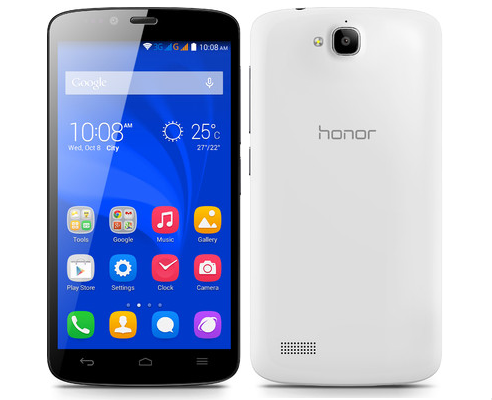 The Honor Holly is a terminal with a 5-inch HD IPS display and 1280 x 720 pixel resolution. It packs a Quad-core processor running at 1.3 GHz, 1 GB of RAM and 16 GB of internal memory.
The Holly has an 8 MP rear camera with an F2.0 aperture and 5 sets of lenses, and the respective front camera has a 2 MP sensor. It also includes HDR, video stabilizer and continuous shooting function.
The Honor Holly has a 68% screen-to-body ratio, and includes a battery of 2000 mAh. It also has the Huawei Smart Power 2.0, which the company says that provides up to 30% increased battery life. With that, up to 24 hours of operation are achieved with a moderate use of the device.
It is powered by Android 4.4, and comes with Dual SIM support (3G + 2G). It also has Bluetooth 4.0 and Wi-Fi Direct.

The Huawei Honor Holly has reached the market for about 139.99 euros, although on its website there is an event called Price Hacker that aims to reduce the price of this terminal for a few days.
During the presentation of the Honor Holly in London, Huawei announced a somewhat original event to capture the interest of future buyers. From today until February 23th, we can register in their website and propose the price we would be willing to pay for that terminal. Then, for a few days and depending on how many people have registered, Huawei will put the Honor Holly for sale at a price below the launch price for the users who have been registered.
If you are interested in the idea, you can access the Hacker Price website.
Source: Android Central.