How to watch movies online with Windows Phone
How to watch movies online with Windows Phone
There are several applications to watch TV series and movies online via streaming using either Wi- Fi or 3G. With these applications, we can take advantage of the resolution offered by the screens of current mobile devices to enjoy a movie no matter where we are.
Here you will find a few applications to watch online movies and TV series.
FilmOnline
It has a catalog of movies organized by categories and a search engine that allows us to locate the movies by title. The movies have good quality and the app has volume controller independent of the smartphone, so we can easily adjust the audio options.
The only drawback is that the application doesn't have a large collection and the amount of titles available is rather limited.
You can download it for free from the Windows Store.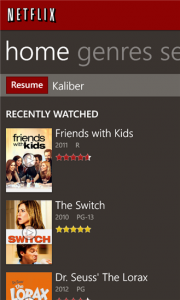 Netflix
Netflix is a paid service that offers a huge amount of online movies and TV series. Its catalog is very extensive and it has become the primary server on sale via online video streaming. In mid- 2013 it had more than 32 million users spread across America and Europe, and it continues to grow every day.
On the downside, it is not available in all countries, so we need to check its availability. If available in your country, you can download the mobile app for free from the Windows Store.
Crackle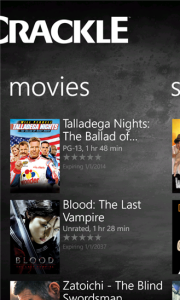 It is a free application to watch online videos. Movies and series are organized by genre and they can be viewed in HD via Wi-Fi or 3G.
The downside is that it is available only in U.S., Canada, UK, and Australia, so if you live in any other country, you will need to find an alternative app.
You can download Crackle for free from the Windows Store.
Netflix app can be downloaded from the Play Store.