How to optimize the use of mobile data in Windows Phone
How to optimize the use of mobile data in Windows Phone
Few people have an unlimited data fee on their smartphone, so most of us need to control the monthly data usage. If this is our case and we do not want surprises in the bill, there are a few actions we can do to minimize the data usage and get the most of our data plan.
With Data Sense app we can see the data consumption of the different applications and limit the maximum monthly usage. However, not all companies offer the possibility to use this app, so this is not a solution for everyone. You can check here how to configure Data Sense.
How to configure Internet Explorer
Internet Explorer can be configured to limit the data volume of the web pages visited, thus limiting the amount of data we use to navigate. To activate this option, we have to go to the "Internet Explorer" menu that we can find in the setup menu.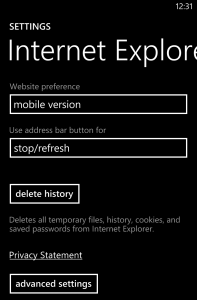 The first thing we must check is if we have chosen as a default option to show the mobile version on the websites we visit. This mode optimizes the readability and reduces the volume of data consumed.
If we have Data Sense, in advanced settings of Internet Explorer we can select the option "Reduce your data usage by sending URLs to Data Sense Service". Once this box is checked, we have to go to Data Sense and select the appropriate option: "Reducing the use of data to navigate."

Other adjustments to reduce data consumption
It is important to set limits to updates of apps like email, podcasts, news, social networks, etc. In the configuration section of each app we can find the option to limit the sync to the Wi-Fi network, set a time interval between syncs or enable the option to update manually.