Hot Purchase Countdown: Ulefone U5 at $102.99, Leagoo Lead 3 at $69.90, iNew V8 at $30 coupon, Cubot X6 at $6 coupon, iOcean X8 Mini at $155.99
We have been inform about a special offer from 1949deal. It is a Hot Purchase time-limited activity beginning tomorrow. This offer includes the next smartphones:
Here are the details of the countdown starting tomorrow:
1. Countdown to [GMT +8] Beijing Time 15:00 p.m. On July 24 ,it's the first round to seize 8 pieces Ulefone U5 at special price of $102.99 ! Countdown to [GMT +8] Beijing Time 15:00 p.m. On July 30, second round to catch the other 8 pieces Ulefone U5. Sold out to end the promotion.
2. 1) From July 24 to July 30, Leagoo Lead 3 is at $71.99
2) iNew V8: $30 Coupon and Cubot X6: $6 Coupon
3) Iocean X8 Mini starts to sell at $155.99.
Check more details here: 1949deal.com
In all, during this activity, if you are interested in any phone, you can share with them, they will give you the best price. The time is limited, just catch the chance from them!
Ulephone U5

Dimensions: 77.8 x 157 x 8.35 mm
Weight: 166 g
SoC: MediaTek MT6582
CPU: ARM Cortex-A7, 1300 MHz, Cores: 4
GPU: ARM Mali-400 MP2, 500 MHz, Cores: 2
RAM: 1 GB, 533 MHz
Storage: 4 GB
Memory cards: microSD, microSDHC, microSDXC
Display: 5.5 in, IPS, 540 x 960 pixels, 24 bit
Battery: 2400 mAh, Li-Ion
OS: Android 4.2.2 Jelly Bean
Camera: 3264 x 2448 pixels, 1920 x 1080 pixels, 30 fps
SIM card: Mini-SIM, Micro-SIM
Wi-Fi: b, g, n, Wi-Fi Hotspot
USB: 2.0, Micro USB
Positioning: GPS, A-GPS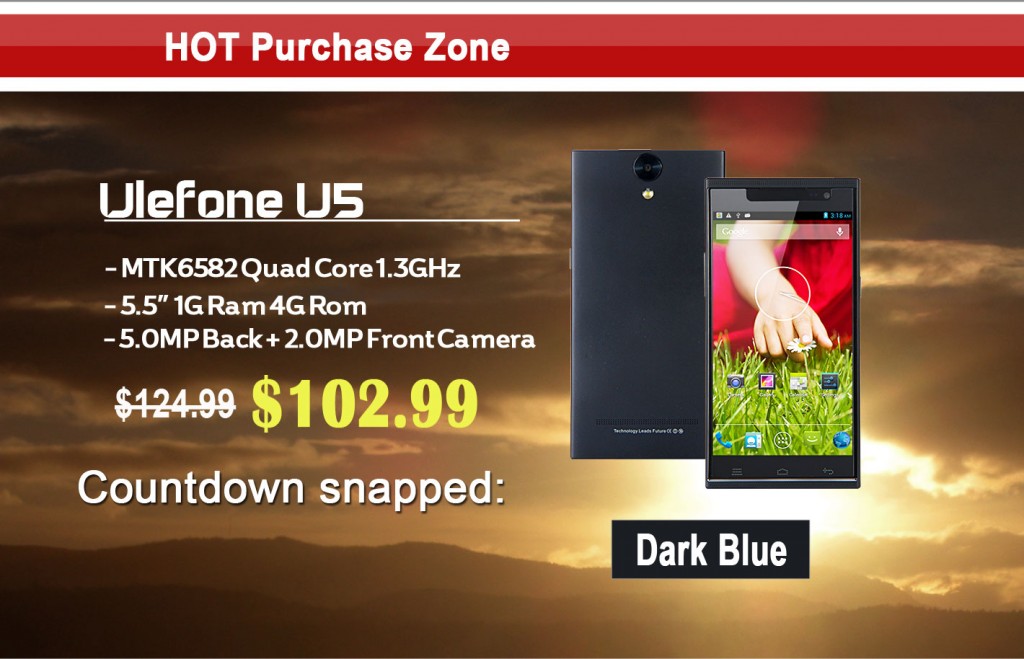 Leagoo Lead 3

Dimensions: 156 x 77 x 5 mm
Weight: 125 g
SoC: MediaTek MTK6582
CPU: Cortex-A7, 1.3GHz, Quad Core
GPU: Mali-400 MP
RAM: 1GB
Storage: 8GB up to 64GB
Memory cards:
Display: 5.5inch, 1280 x 720 (HD 720), Capacitive, IPS
Battery: 2200mAh
OS: Android 4.4
Camera: Front camera 5.0MP, back camera with flash light and AF, 13.0MP
SIM card: Dual Standby, One is micro SIM slot, Dual SIM.
Wi-Fi: 802.11 b, g, n wireless internet
USB: MicorUSB
Positioning: GPS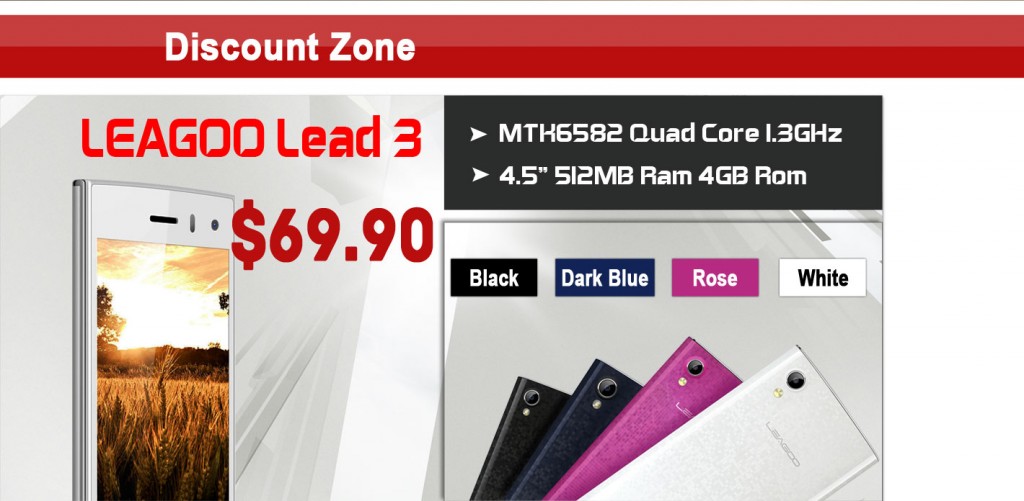 iNew V8
Dimensions: 78 x 151 x 7.6 mm
Weight: 159 g
SoC: MediaTek MT6591
CPU: ARM Cortex-A7, 1500 MHz, Cores: 6
GPU: ARM Mali-450 MP4, 700 MHz, Cores: 4
RAM: 2 GB
Storage: 16 GB
Display: 5.5 in, IPS, 720 x 1280 pixels, 24 bit
Battery: 2400 mAh, Li-Ion
OS: Android 4.4.2 KitKat
Camera: 4128 x 3120 pixels, 1920 x 1080 pixels, 30 fps
SIM card: Mini-SIM, Micro-SIM
Wi-Fi: b, g, n, Wi-Fi Hotspot
USB: 2.0, Micro USB
Bluetooth: 2.0
Positioning: GPS, A-GPS
Cubot X6

Dimensions: 73 x 143.5 x 8.6 mm
Weight: 164 g
SoC: MediaTek MT6592
CPU: ARM Cortex-A7, 1700 MHz, Cores: 8
GPU: ARM Mali-450 MP4, 700 MHz, Cores: 4
RAM: 1 GB
Storage: 16 GB
Memory cards: microSD, microSDHC
Display: 5 in, IPS LCD, 720 x 1280 pixels, 24 bit
Battery: 2200 mAh, Li-Ion
OS: Android 4.2.2 Jelly Bean
Camera: 4160 x 3120 pixels, 1920 x 1080 pixels, 30 fps
SIM card: Mini-SIM, Micro-SIM
Wi-Fi: b, g, n, Wi-Fi Hotspot
USB: 2.0, Micro USB
Bluetooth: 2.0
Positioning: GPS, A-GPS

iOcean X8 Mini

Dimensions: 79.08 x 159.02 x 7.7 mm
Weight: 172 g
SoC: MediaTek MT6592
CPU: ARM Cortex-A7, 1700 MHz, Cores: 8
GPU: ARM Mali-450 MP4, 700 MHz, Cores: 4
RAM: 2 GB
Storage: 32 GB
Display: 5.7 in, IPS LCD, 1080 x 1920 pixels, 24 bit
Battery: 2650 mAh, Li-Ion
OS: Android 4.2.2 Jelly Bean
Camera: 4128 x 3096 pixels, 1920 x 1080 pixels, 30 fps
SIM card: Micro-SIM, Nano-SIM
Wi-Fi: a, b, g, n, n 5GHz, Dual band, Wi-Fi Hotspot, Wi-Fi Direct, Wi-Fi Display
USB: 2.0, Micro USB
Bluetooth: 4.0
Positioning: GPS, A-GPS