HomeSlice simplifies our lives when we share a flat
HomeSlice simplifies our lives when we share a flat
All of us who have shared a flat know how difficult it can be organize chores. Our roommates can be our best friends, some acquaintances or even someone who have just met. To live with roommates means to divide the rooms and follow a certain organization in the shared spaces.
However, keeping the home clean and organized is not always the order of the day. Not to mention the basic supplies … that most of the time nobody remember to buy. This is where HomeSlice can help us to simplify our life.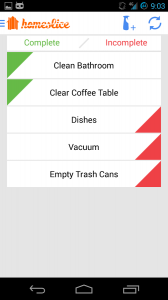 This application is really useful to organize all the chores of the house, creating a private social network among the inhabitants of the flat. Thus, we all have access to the list of products in the pantry, the bills, the chores, and the general notification area in the form of a news feed.
The product list is open to all members of the network, so everyone can move products from the category "in stock" to "out of stock" and vice versa. Just dragging the item to the right or to the left, we can change its label.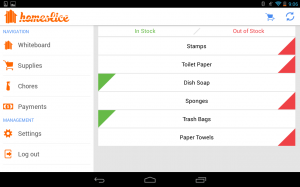 Bills work in a similar way, alternating between the received bills and the paid ones. When we get a new bill, any member can enter it in the appropriate section, and when someone pays it, anybody can change its status to "bill paid".
Finally, the news feed allows all the roommates to leave comments of general interest, such as plans for the evening, or any report that needs to be sent to the others.

The application was available for iPhone and iPad and now it has a beta version out for Android devices, so that all occupants of the flat will probably be able to access it. You can download HomeSlice form the App Store and the Google Play respectively.
Source: GSM Nation.