HoloFlex is a holographic and flexible Android smartphone
Researchers from Human Media Lab from Queen University have developed the first holographic and flexible smartphone in history. The device, called HoloFlex, allows you to view 3D images visible from any angle of the display and without the use of special glasses.
Natively equipped with a display with multi-touch screen technology and Full HD resolution, the new Android smartphone HoloFlex uses a principle called Flexible Organic Light Emitting Diode (FOLED) for the creation of frames that have a very low resolution created from 16,000 lenses to eye fish that lead to resolutions of just 160 × 104 pixels. Taking the cue from another implementation technology called ReFlex, it was introduced a sensor for reading the 3D curvature that lets you interact with the foldable smartphone functions. It will also be possible to operate even on pictures using the touch display.
Previously we have seen various prototypes of Samsung and Google as the first flexible smartphones, then the ReFlex, and finally the first flexible smartphone that really works produced by a Chinese manufacturer called Interim. HoloFlex is yet another interesting proof of what we can expect from a device of the future hopefully not too far away.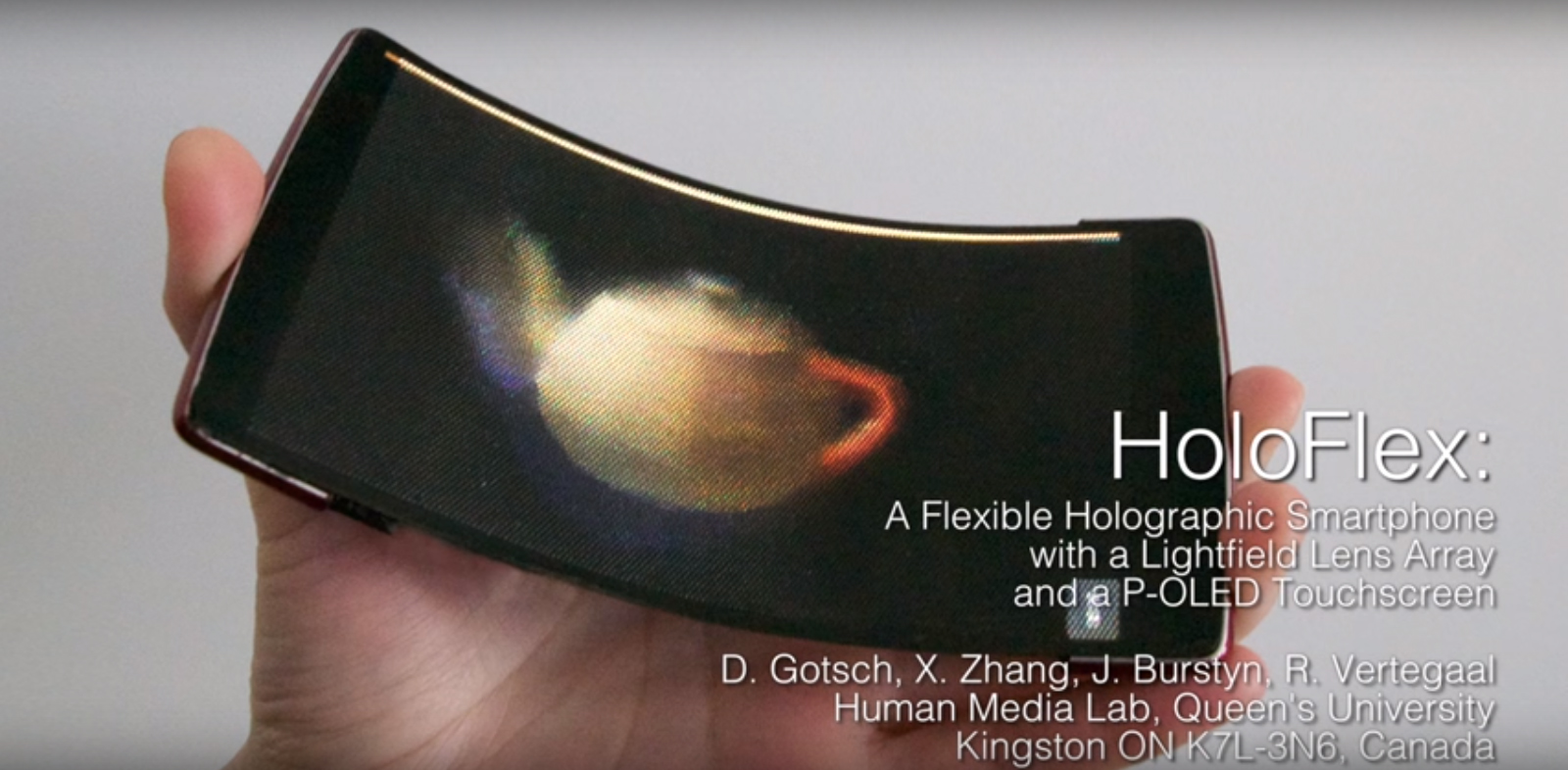 For the rest HoloFlex is a common smartphone having a Qualcomm Snapdragon 801 processor at 1.5 GHz SoC with GPU Adreno 430 and 2 GB of RAM which run through a system Android 5.1 Lollipop version. Promises to make visible three-dimensional images from virtually any angle possible in space and, moreover, without using specific hardware, as may be Goggles.
The project leader, Dr. Vertegaal says that such technology will be sought to direct editing of objects in three dimensions before the 3D printing process. Alternatively, it can also be used for the gaming industry, or be used for connection to 3D cameras for videoconferencing purposes. The Android smartphone HoloFlex confirms the trend of the moment aimed at achieving the objectives of the future digital smartphones.
HoloFlex is a holographic and flexible Android smartphone