Google updates the Android keyboard and now adjusts for height
Google today released a major update of its keyboard for Android devices. With version 5.0 of the keyboard, the Mountain View giant has tried to meet the needs of those users who had changed to alternative applications developed by third parties, and available on Google Play Store.
First, layout and interface have been affected by some changes that have also facilitated the optimization of functionality. The most important novelty of the new Google keyboard is undoubtedly the chance to use it with one hand. Right-handed or left-handed people will still find comfortable the keyboard 5.0 release. The feature is activated by holding down the "comma" key.
Another new feature is the ability to change the keyboard height by choosing from five different sizes. The word suggestion system has been improved and now takes into account the user's habits. The old Holo theme has been eliminated and now the only ones available are the themes light and dark style of Material Design (the user can decide whether or not to display the buttons edges). Below is a short list of the most significant changes we met in the new version 5.0 of the Google Keyboard: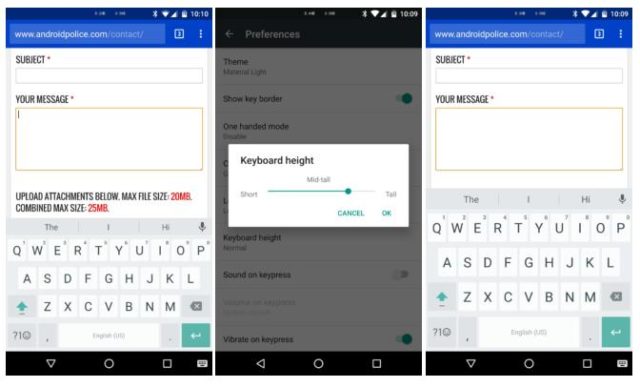 Option to show the edges; removing the Holo theme; introduction of the 'one-handed mode'; height adjustable keyboard; new user experience; new gestures; faster access to the numeric keypad, and emoji. The keyboard is being distributed at this time and is already popping up on users' Android devices. Users who do not yet have it can head to the Play Store and see if the new version is already available for their smartphone.
That's not all, because several other improvements punctuate every other aspect of the experience: the wrong suggestions coming from the algorithm of Google, for example, can now be deleted with a swipe of the thumb upwards, the space in height occupied by the keyboard can be defined at will in the settings and access to emoji and the numeric keypad has been placed in the foreground. The update will be gradually be installed on all smartphones with keyboard and Android already installed in version 4 or higher.
Google updates the Android keyboard and now adjusts for height