Google releases Android 4.4 KitKat
Google releases Android 4.4 KitKat
LG Nexus 5 is available, and it runs Android 4.4 KitKat. After lots of leaks, it's finally true: Android 4.4 KitKat is official. Android's developers define this version as beautiful and immersive, with lots of useful features. But what means 'beautiful and immersive?'
Although there are many new features in this version, one of the most obvious is the "Ok Google" feature. You can just say "Ok Google" to send a text, get directions, launch a voice search or play a song. You don't need to press any button nor touch the screen in any way.
The immersive experience comes from the fact than when you are doing something (from watching a movie to reading a book), all the things that you are not looking at that moment will be hidden. Then, until you swipe the edge of the screen, the only visible thing in you device is what you are doing.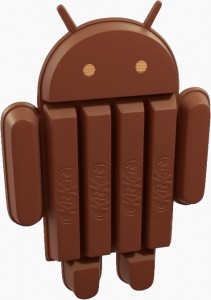 Android also announces a faster multitasking thanks to the memory optimization and improved touchscreen. The Hangsout's new version allows you to have all the SMS in the same place, together with the voice calls and video recordings. And it also includes the ability to share location with just pressing a button!
Android 4.4 KitKat also allows you to print directly from you phone or tablet through any printer that had apps in the Google Play Store. Using the redesigned app Quickoffice, you can open and save files on Google Drive or your device and open directly the recent ones.
Another smart app that Android 4.4 KitKat includes is the one that prioritizes our contacts based on who are you calling the most. The 'Yellow Pages' functionality relates the unknown calling numbers with the local business on Google Maps.
These are just a few of the new features that Android 4.4 KitKat offers. In the next days we will analyze it deeper. It's available on the Nexus 5 but Google has announced that Nexus 4, 7, 10 and Google Play edition phones will be updated in the next weeks.
More information at: Android.com.