Google relaunches Android One in the new hardware division
The Android One initiative aims to bring the mobile ecosystem with products and services in the territories of the emerging countries, through a network of partnerships with local operators and OEM companies that can make them available at extremely affordable smartphone. This without considering that another goal of the program is to provide these hotfixes devices to new versions of the platform in an attempt to stem the fragmentation.
Google seems serious about giving a new impetus to the Android One program, born in 2014 in order to encourage the spread of low-cost Android smartphones in emerging markets. An objective that also allows to expand the user base of the BigG to access its services in markets that still have good growth potential and in which smartphones offered at a low price have more chances to succeed than the premium models. After a certainly not overwhelming start, the program goes on different bases, so preserving its purpose.
The first effect of the new impetus given to the Android One program will result in a new series of models manufactured by OEMs who have chosen to support it. The release timing will depend solely by OEMs, while Google will take care of the development of the software platform. The first Android One models, made by companies like Micromax, Karbonn and Spice, still involved in the project, have resulted in low-cost smartphones, equipped with the operating system basically stock. But Google did not confirm how many and what are the other companies that produce Android One terminals in the future.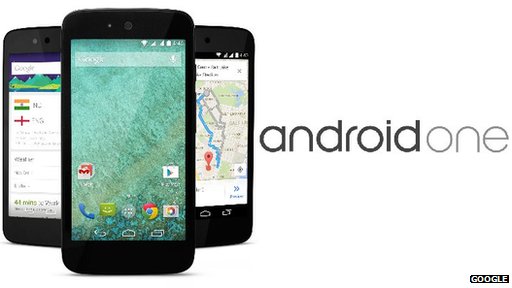 Google has also stressed some important stages of the Android One program that, after the lukewarm initial reception, started to give more space to OEMs. The models initially marketed, in fact, shared the basic hardware platform outlined by Google to ensure optimum performance of the software. Over time, the stitches were loosening providing OEMs with the freedom to use the most varied hardware configurations. This freedom will continue to characterize the program that arises, in essence, as a platform where Google, working closely with global partners, contributes to the spread of cheap smartphones based on the Android operating system stock. What changes compared with the past as the major Android One initiative with the overall harmonization and renewed Google's hardware strategy.
Android One smartphones, initially directed to the markets of Southeast Asia, also have gradually reached the African and the European continent -with BQ Aquaris A4.5. It is not inconceivable, therefore, that the new models will be marketed in Europe. Further details on the way in which Google plans to relaunch the program may emerge, possibly, at the Google I/O 2016, which will start on May 18. The will to Google aimed at giving new impetus to the distribution of low-cost Android smartphones is justified by the current of global smartphone sales trend: emerging markets are the main relief valve of a saturated segment in mature.
Google relaunches Android One in the new hardware division