Google Project SkyBender – Drones and 5G connectivity
Drones equipped with solar panels to bring high-speed Internet connection anywhere is what the Project SkyBender would provide according to the Californian company. This is demonstrated by the Project Loon fielded about two and a half years ago, with the goal of bringing the Internet anywhere through the use of balloons, as well as the acquisition of Titan Aerospace to provide coverage to any territory by the use of drones.
Google attemps to fight the digital divide with technology is not a mystery. Focusing in particular on the latter initiative, it is interesting, according to reports over the weekend on the pages of The Guardian, that The Mountain View group has rented a hangar of about 1,400 square meters owned by Virgin Galactic, located in New Mexico at the Spaceport America terminal and near a town called Truth or Consequences, for a daily expense quantified in $ 1,000.
The big G of Alphabet would be carrying out tests on the so-called Project SkyBender, a system developed specifically for transmitting to the ground a data flow equal to several Gigabits per second, with a speed about 40 times higher than that of the current 4G networks. In other words, a connection 5G from the sky, made possible by the use of drones powered by electricity generated by solar panels installed on the surface.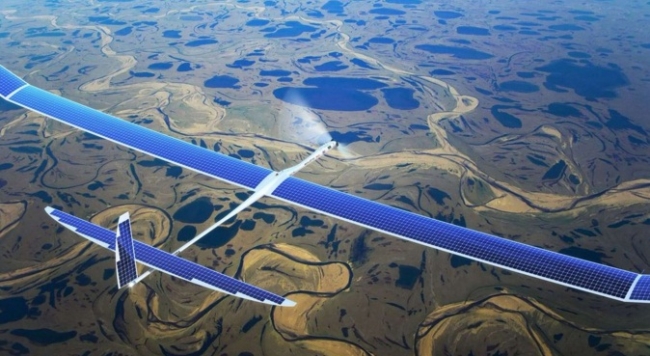 The sending and receiving would be on EHF frequencies, or taking advantage of the so-called millimeter wave. Currently testing Google would be conducted on prototypes of which are unfortunately not available images. By leaked documents also it shows that the FCC (Federal Communications Commission) has assured the Californian company the opportunity to carry out the tests until the month of July, after which the authorization must be renewed.
It will, however, probably take more time for the completion of the technology which may one day be used not only in the skies of the United States, but especially today where Internet access is a utopia, thus stopping development, communication and information. From Mountain View have not come comments on what is reported. We must wait, then.
Google Project SkyBender – Drones and 5G connectivity