Google offers a 10% discount on all the Play Store if you use Google Play Music
Google Play Music is a music streaming service from Google, which can be used simply as your music player in the cloud or as a user fee and enjoy all the music in the world for $9.99 per month. If you're in the latter group, you can use a discount of 10% on certain purchases in the Play Store.
With no advertising by Google, the company has rewarded premium users of Google Play Music with 10% of discount on any purchase at its store. Starting today, when you buy a product in the Play Store you will receive a message reporting about the 10% discount over your purchase price after applying. This offer is valid for Google Play Movies and all applications and games, but not books or kiosk applies, also in terminals Nexus, Chromecast, Nexus Player, smartwatches or fittings. Still, remember that buying a Nexus or Chromecast you receive 90 days of free premium Play Music.
The offer is not valid if you are trying Google Play Music premium for 30 or 60 days, but if it is valid even if you have paid one month and one year already. It is also available if you purchased during the Black Friday offer which allowed you to enjoy 3 months premium by $1.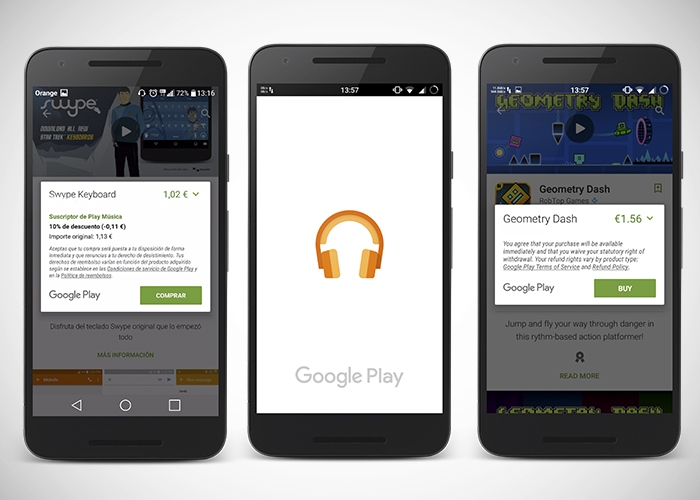 You also can not use the discount if you combine it with other applications or internal purchases. Google has not said anything about how long the offer will be available, but is likely to be completed by the new year or the end of January. Until end of the period, the discount will regenerate, so no matter how many purchases you make you'll always have the discount.
At the gates of holiday shopping, offers and discounts are on all business and trade we know. Google has refused to be less and start with a small gift for those who use its services. If you do not know how to take advantage of this discount, Google offers you certain purchases that could orient or interest. Spread across its various services, you can find some more successful hits and some of the most popular games of 2015. You can find all the information on its website.
Google offers a 10% discount on all the Play Store if you use Google Play Music