Google drops the price of Nexus4 to $199 (199€)
Google has returned to give a blow to competition by lowering the price of the Nexus 4 8GB to $199 or 199€ depending on the region where the buyer of this awesome smartphone is located. The 16GB version downs its price to $249 (249€) being finally at a very interesting price for sure going to make sales decrease of its main competitor, Apple . Keep in mind that this price is very low if you have into account the quality of this Android mobile phone. Obviously, this terminal cant compete directly with other Android smartphones like the Samsung Galaxy S4 ,
HTC One
,
Sony Xperia Z
,
LG G2
, … but its quality/price may be enough to let more than one user buy this device rather than pay a large amount of money for one of the top models. One of the advantages of the Nexus 4 is that belonging to the Nexus family , we know it will always be updated and it will be from the first devices to get these updates which usually happens with top models but in this case we can get it for a low price.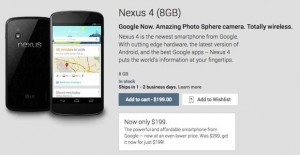 We hope that Google continue offering products of such quality for this price because that is one of the strengths of Android andn Google against the iPhone of Apple. Any user has access to mobile technology without having to spend a high amount of money and also can choose from a large number of manufacturers and specifications. For now , it seems that we will be with Android for a long time…