Google Hangouts new application integrates Google Voice
Google Hangouts new application integrates Google Voice
Google Hangouts has been finally updated to integrate Google Voice. This is the news many of you were expecting, but not everybody is going to be happy. The bad news is that the application is only available for iOS users. Android users still have to wait a little… even though Vic Gundotra, Google's SVP of Engineering, has assured that the Android version will be available soon.
If you are an iPhone, iPad or iPod Touch user, you will be glad to know that with this application you can make Voive Over IP calls to any number using your Google Voice number. And what is even better, the calls made to numbers in the US and Canada are free. If you are interested in international calls… well, no SIM card is needed and the prices are really low.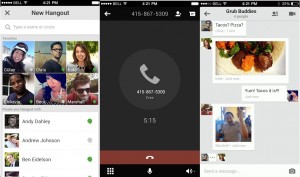 With the upgrade, iOS users can receive calls through Google Voice, using the Hangouts applications. You can convert any conversation (with one person or group conversations) into face-to-face video calls with up to ten people! Now you have no excuse to not to speak with your friends and family at no cost.
If you are already a Google Voice user, this update will give you the possibility to make and receive calls from any of yours iOS devices. The outgoing calls came from the Google Voice number while the incoming ones can be answered from Google+ Hangouts.
Some other interesting features are the possibility to add animated GIF, which now will be played in–line, and the ability to temporarily turn down the music when you receive an incoming message (without stopping it).
Version 1.3 is available for iOS users and will be also available soon for Android. The rumors say that probably the integration will came together with the new Android 4.4 KitKat.
You can download the application from iTunes App Store.