Fugoo XL, a powerful Bluetooth speaker
Fugoo already had an incredible Bluetooth speaker. It is a completely water resistant speaker (can be submerged without suffering any damage), capable of emitting high quality music at 360 degrees and with a battery able to provide up to 40 hours of playback.
It is available with 3 different covers, which offer an extra level of protection. The strongest can survive to any fall and shock, making it the ideal complement for any outdoor activity.
Now, Fugoo has presented the Fugoo XL, a speaker that is four times biger than the original device. With so much extra space, the difference is obviously there. The Fugoo XL includes eight drivers (four tweeters, two drivers and two bass drivers), which promises great sound at a maximum power of 100 db.

It has the same structure as its little brother, with 3 interchangeable covers: Style, Sport and Tough (the latter foolproof hit). Similarly, it is also resistant to water, dust, snow and sand. It is fully submersible and manages to offer 35 hours of playback on a single charge.
In addition to being waterproof, the Fugoo can float, so we can take it with us when we went for a canoe ride or even attach it to the surfboard without fear of losing it if it is accidentally dropped into the water.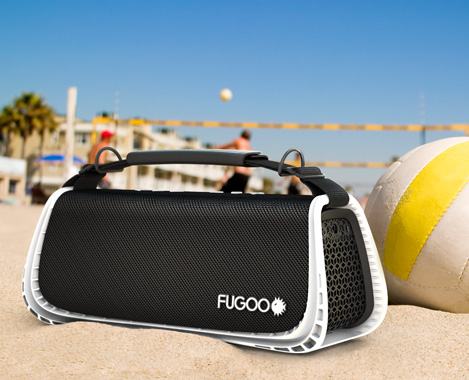 Thanks to the microphone it includes, we can use voice commands to communicate with the smartphone, either through Siri or Google now. We may also respond to voice calls without having to touch the phone. It also includes some physical buttons to control the music playback.
It will be available from April, priced at $ 299 for Style and Sport models and $ 329 for Tough model.
Find more information in Fugoo.