Facebook 4.0 beta for Android
Facebook 4.0 beta for Android
Facebook is preparing a new version that will be available soon to Android users, or so it seems. A few days ago, Facebook presented its messenger app totally redesigned, with a flat UI, more similar to its competitors, such as Twitter or Pinterest. Windows Phone, Android and iOS have all moved in that direction too, so Facebook is finally following the same path.
However, this version is not ready yet, and the option available is only visible for some users. If you chose to install the new 4.0.0.0.2 version, you may or may not be able to see the changes; it's up to Facebook to decide which users get access to it.
This new version has introduced several changes. The most visible one concerns the UI. Now the app shows five tabs in the upper part, with the icons corresponding to the New Feed, friend requests, status updates, notifications and the menu. In previous versions, this was the place where you used to find the Status, Photo, and Check In buttons, which have been displaced to the bottom.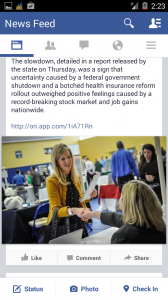 Other differences can also be seen, like the title banner added to the left side of the action bar or the search icon on the right. Finally, some bugs have also been fixed.
It's not known yet when Facebook is going to fully release this version to all its users, but it will probably be in the upcoming weeks. However, as this is a pre-release, some of the feature may be different in the final version.
If you would like to try the beta versions before the company releases them, you can became an Android beta tester. Here, Facebook describes how to sign in, give feedback and leave the program at any time.
Here you can download Facebook 4.0 beta.