Essential Phone, the smartphone created by 'Android' Rubin
The idea of an "essential phone" is one of the main goals of companies like Apple, which in their continuous evolution promote minimalist and elegant styles. Andy Rubin, the former CEO of the company that developed Android, is also the same opinion, the popular operating system that today combines millions of devices around the world.
As an outsider in the Tapei Computex 2017 just started, Andy Rubin took advantage of today's smartphone spotlights to present Essential Phone, his first real bet in the field of high-end smartphones.
The project is among the most ambitious. First of all the price: Essential Phone will cost $ 699 at launch, and will be initially shipped to USA, compatible with most carriers. From the images clearly emerges a display that almost covers the front of the device, leaving room only for the front camera. This is a similar display, at least for philosophy, to those used on Galaxy S8 and LG G6.
It will feature top-of-the-range hardware, including Qualcomm 835 processor, 4 GB of RAM, and 128 GB of storage. The device is built with a combination of titanium and ceramic, so that it can survive against any fall, putting it on the paper as being more resistant than the competition offered by Apple and Samsung.
Essential Phone, on the other hand, just like the iPhone 7, will not have a 3.5 mm traditional jack, but there will be a dongle inside the box to restore the function.
Essential Phone, modular smartphone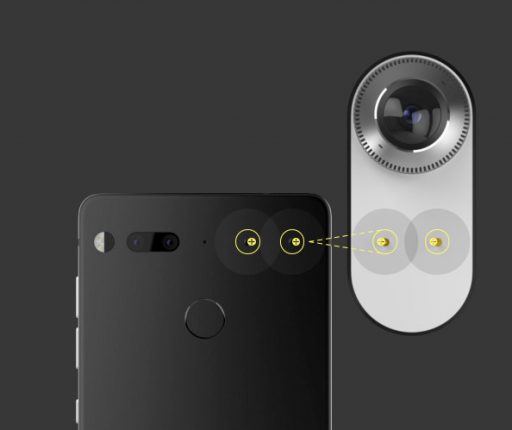 Essential Phone's flagship, however, is not so important for the hardware features as for the new concept of modularity. On the back is a magnetic connector that can attract, for example, a 360-degree camera or other accessories, such as a charging dock. This new idea of modular smartphones is undoubtedly easier to implement, even for the end user, who can quickly attach and disconnect modules, as needed. In addition, it is easy to predict that there will be a variety of audio accessories, ready to connect to the magnetic port on the back of the terminal.
Essential Phone also features a good photographic section, which seems to squeeze the eye to Huawei. And in fact, the dual camera does not have a second lens with telephoto lens or bokeh, but implements a black and white sensor, just like Huawei P9 and P10. The front camera also offers an 8-megapixel sensor that can also capture 4K video. So, in short, Andy Rubin proposed a new smartphone philosophy, which is to be summed up in a simple, direct, powerful and clean device.