Duolingo has new languages!
Duolingo has more languages!
Duolingo is growing. This fantastic language learning application has expanded its offering to include Russian, Turkish, Hungarian, and German languages as a basis for learning English.
Currently, if you know English, you can learn Spanish, French, Italian, German and Portuguese. The learning method has the appearance of a game, with points, rankings, and lives that we can lose when we make a mistake. It is very focused on translation and dictation, leaving aside the oral part. However, it includes a lot of exercises that will greatly facilitate the learning process.
The application analyzes our failures and asks us questions included in the lessons we have more difficulties while in the easiest ones, it advances quicker. We can sign in using a Facebook account, a Google account or just with an email address. Once registered, we can compete with our friends and invite them to join the app.
Unlike other languages apps like Busuu, Duolingo is completely free and has no ads. This is possible thanks to a crowdsourcing business mode, based on text translation. Private companies pay for some translation services that are done by students as part of their learning process. This works surprisingly well, and last year Duolingo announced it had signed an agreement with CNN and BuzzFeed to translate articles from their websites by this system.
One of the biggest criticisms Duolingo has is the limited number of languages supported. However, they are gradually expanding, as has just happened with this latest update, which added some new languages. SinceMay 2013, Duolingo has the "Language Incubator" with the idea that the community will help to create the new courses.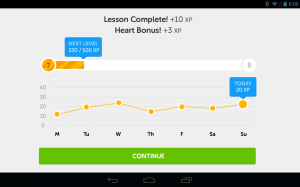 Duolingo is available for iPhone, Android, and PC. You can download it for free from the App Store or Google Play respectively.
More information at Duolingo.com