Coursera is updated with support for Chromecast
The application for mobile devices Coursera has been updated to include support for Chromecast. This allows us to follow the lessons directly from the TV, in a much more convenient and efficient way than watching the videos from the small screen of the smartphone or tablet.
In addition, the update also brings other advantages such as the ability to use the phone in landscape mode, or the option to rewind 10 seconds into the video player, which can be very useful when searching for a particular part of a lesson.
With this update, we also have the possibility to switch between "Past, Current and Upcoming" on the My Courses tab. Furthermore, it also fixed several bugs reported by the users that affected the first version of the app.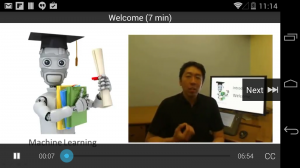 Coursera is the largest platform offering free online courses. They are taught by the most famous universities in the world, and there are more than a hundred of them offering one or more courses.
The courses are designed to last between one and three months, and are completely free. They follow a self-learning mode based on video lessons and they are complemented with additional information, tests and various exercises.
With Coursera we can study from mathematics and computer science to art and literature. The contents of all of them have a college level and if we complete the course successfully, we will receive a certificate (though we need to pay for it).
Currently, Coursera offers over 600 courses across 20 areas, all based on online video lectures, which can be watched by streamed or downloaded to watch offline. That makes the Chromecast support especially interesting, since watching the lessons on the TV offers an added bonnus.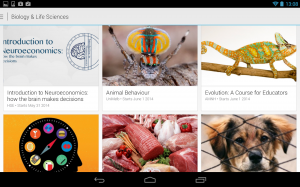 Initially, the courses were taught in English, although at the moment they are offered in 14 languages, including Spanish, Japanese, German and Chinese. In addition, many include subtitles in various languages, so that we can follow most of them even if we don't fully mastered English.
The launch of the mobile application was a big step forward, opening the possibility to follow the courses from our mobile device, be it smartphone or tablet, increasing the flexibility of the learning process. That allows us to watch the lessons at any time we feel like, without being subject to any kind of schedule.
If you like learning, you have a little free time and want a free and qualified education, Coursera is a great option. On its website you will find all the information about the next courses offered, and if you are interested in one that has already finished, do not worry, they are usually repeated several times over the year. You can always log-in and you will be notified when the inscriptions of the course opens again.
The application is available for free for iOS and Android. You can download it from the App Store and Google Play respectively.